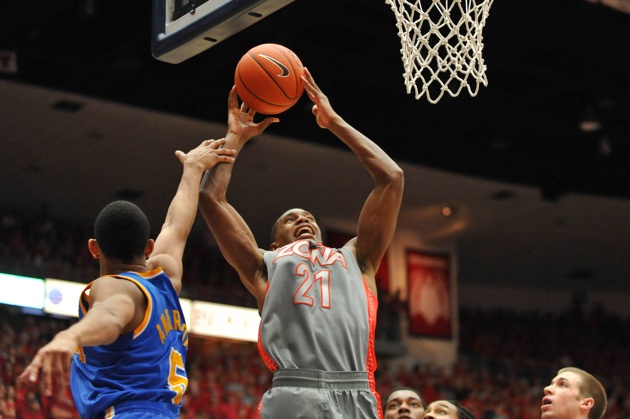 Kyle Fogg and Arizona have come out of nowhere to put themselves in contention for an-large bid. (US Presswire)
A week ago, no one was talking about Arizona. The Wildcats were 14-8 overall, 5-4 in a horrendous Pac-12 and on a collision course with the NIT – maybe.
Then, they go to Northern California and beat California and Stanford on the road – and suddenly the Wildcats were projected by nine bracketologists to make the field of 68 if it were selected today.
What? How does that happen?
That was my initial thought, at least.
While I still don't believe the Wildcats would be included if the Selection Committee had to make its final decisions right now, their profile isn't that much worse than say, Texas or Northwestern or Ole Miss or NC State or whichever mediocre team you want to include in your bracket.
The basics: Arizona has subpar computer numbers – RPI and SOS both in the 60s – and a sub-100 loss to UCLA back in January. However, the win over California gave the Wildcats a top-50 RPI win, and the victory at Stanford put Arizona at four top-100 wins on the season. Is that impressive? Of course not, but it puts them in the discussion. Had they snuck out a win against San Diego State or Florida back in the early stages of the season, we would likely be talking about them as the best at-large profile in the Pac-12.
What makes the Wildcats more attractive is their schedule going forward. They have four home games in the final seven, as well as two road contests at Washington State and Arizona State, who are a combined 7-15 in the league. The key game could be February 18 at Washington. In the first meeting between the two, Washington came up with big defensive stops down the stretch and Arizona missed a couple of chippies late in the game.
If Arizona goes 6-1 down the stretch – with a loss at Washington – it will leave the profile at 22-9 overall, 13-5 in the Pac-12. Considering California has a fairly tough schedule in the final month and Washington has five of its last seven on the road, could the Wildcats win the Pac-12 title?
Arizona is a young group with some key veteran leaders. It has has been playing very good defense and is become more consistent offensively as the season progresses. The Wildcats could put together a run and live up to preseason expectations with an NCAA berth, and that's certainly more than anyone could have said about Sean Miller's club before last week.
Like I said, it surprised me too.