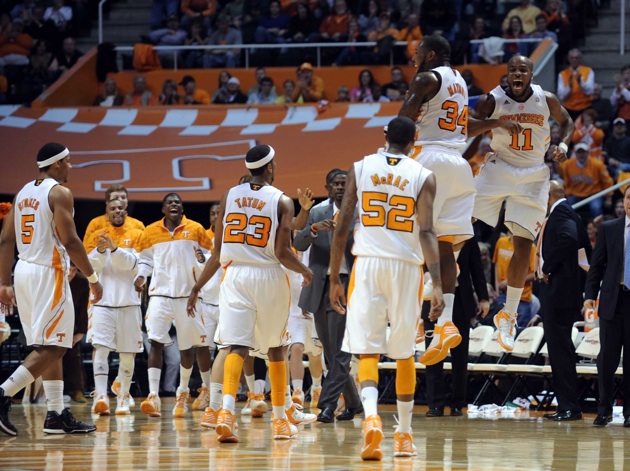 Tennessee reacting to the news that I'm running the Wakeup Call for two days. And its win over Arkansas. (US Presswire)
With Matt Norlander in Indianapolis for a few days at the NCAA Mock Selection Committee ordeal, I'm taking over the Wakeup Call today and tomorrow. I'll admit in advance that I don't hunt for links as well as Norlander, and you won't see any of his rock videos at the bottom of this post. Maybe house music anthems, but no rock.
For tomorrow, feel free to send any links to me via Twitter (@jeffborzello) or email (jeff.borzello@cbsi.com).

- Uh oh, where have we seen this before from Saint Mary's? Last year. The door is now open for Gonzaga to potentially continue The Streak.

- Might do a full post on this later, but attendance in the ACC is down across the board, and the Wall Street Journal attributes it to four things.

- Virginia Tech is apparently holding out for the NIT; its AD said the Hokies won't play in the CBI or CIT.

- Oral Roberts and Murray State clinched regular-season titles in the Summit and Ohio Valley, respectively.

- The Big Sky will have 11 teams next season. This year, six teams make the conference tournament. Next season, they're going with seven teams.

- This has to be the best photo we've seen in college basketball this season, right? Seriously, click on it, it's absolutely hilarious.

- Minnesota's inability to get over the hump against the better teams it's played will haunt the Gophers come Selection Sunday.

- Ryan Greene covers UNLV for a living, so he seems like a reliable source to break down the MWC/CUSA merger from a basketball standpoint.

- Speaking of Greene, he looks at why UNLV forward Mike Moser isn't getting more publicity for Player of the Year honors. Goodman is quoted, so you can skip over his parts.

- Loyola (Md.) was by itself atop the MAAC just four days ago. Now, the Greyhounds have a slim chance of winning the league after losing to Marist by 17 on Wednesday night.

- The potential for a buzzing college basketball program at Miami was evident on Wednesday against North Carolina, but there's still room to grow.

- Could Michigan be a sleeper in the Big Ten title race?

- In honor of Norlander being in Bloomington last night, here's one man's list of which 10 jersey numbers he would retire in Indiana history.
Self alley-oops are fun. Ask Hampton's Darrion Pellum.
As always, we need some music to finish things off. And as I said, we're going to bro out early and often now that I'm in charge of the Wakeup Call (for two days). If you're new to the house music game, Avicii always gets you going.
More College Basketball coverage