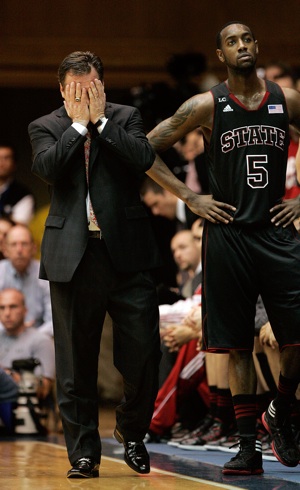 NC State blew a 20-point lead in the final 11:33 vs. Duke. Mark Gottfried sums up State's feelings. (US Presswire)
It looked like another bubble team was ready to come into Cameron Indoor Stadium and knock off Duke. It looked like the Blue Devils were prepared to lose their third game at home this season. It looked like North Carolina State was heading to the NCAA tournament.
And now? Well now, none of that is happening yet.
Duke came back from a 20-point deficit in the final 11:33 to beat the Wolfpack, 78-73. The Blue Devils simply kept coming back. It was a 13-0 run that turned into a 20-3 run that turned into a 37-12 run. In that span, Duke outscored NC State by 25, missed just six shots -- and didn't commit a single turnover.
North Carolina State was completely rattled down the stretch. And it wasn't just one person. Lorenzo Brown stepped out of bounds, C.J. Leslie committed a bad foul, Richard Howell bumped Austin Rivers 40 feet from the basket.
The final possession was a microcosm of the final 10 minutes for NC State. Down by three with 25 seconds left, the Wolfpack – instead of going for a quick two and then fouling to extend the game – decided to look for Scott Wood going off screens behind the 3-point arc. And that was it. When Duke's Tyler Thornton stayed with Wood throughout the possession, the Wolfpack had no options. Brown took a desperation 3-pointer with seven seconds left and Seth Curry – who scored 21 of his 26 points in the second half – iced the game with two free throws.
This was North Carolina State's game. A win at Cameron Indoor, and the Wolfpack would have the inside track to finishing fourth in the ACC – and likely getting an NCAA tournament berth. Their resume – which also includes wins over bubblers Miami (Fl.) and Texas – would have compared favorably to nearly every other team on the fence. When Duke missed 11 of its first 12 shots, including its first nine 3-pointers, everything seemed to be going according to plan.
NC State fought everything to keep the lead. They fought off the initial comebacks by Duke, they fought off foul trouble, they fought off turnovers.
But they couldn't fight off Duke's final run.