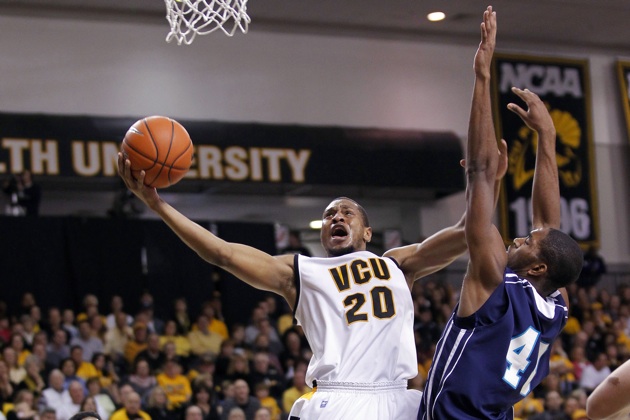 Bradford Burgess and VCU look to jump-start another late-season run in the BracketBusters vs. Northern Iowa. (US Presswire)
We usually don't do a "Today's Specials" on Friday, but Bracket Busters kicks off tonight and we need to bring you into the weekend right.
Note: All times are Eastern, and the rankings are according to the AP poll.
Best game: Northern Iowa at VCU (7 p.m., ESPN2). Both teams had at-large aspirations for certain parts of the season, but neither team is in the mix right now. Northern Iowa could be a bid-stealer in the Missouri Valley, as the Panthers have shown the ability to beat quality teams in and out of the league. VCU lost a heartbreaker to George Mason earlier in the week, and now sits in third in the CAA. Defensively, VCU will look to force turnovers and pressure the perimeter, and Northern Iowa wants to dominate the defensive glass.
Second-best game: Valparaiso at Loyola Marymount (9 p.m., ESPNU). Two teams that are hitting their strides at the right time. Valparaiso has won nine of its last 11 games, and currently sits atop the Horizon standings with a 1.5-game lead on Cleveland State. Loyola Marymount is coming off a 15-point road win at Saint Mary's, and has won five of its last six. Loyola Marymount's perimeter defense will look to stifle the Crusaders' shooters, while Valparaiso has to keep LMU off the foul line.
Another one to watch: Cornell at Penn (7 p.m.). With Harvard losing last week, things have opened up a little bit in the Ivy League standings. Cornell and Penn are both within striking distance, as Penn is 5-2 and 1.5 games back, while Cornell is two games back in fourth place. The winner of this one stays in the hunt. The key will be 3-point shooting – Penn relies heavily on 3-pointers, but Cornell guards the perimeter effectively.
Guaranteed win: Harvard suffered its first league loss of the season last weekend at Princeton, and the Crimson probably can't afford another defeat if they want to keep their at-large hopes alive. 7-18 Brown will be the sacrificial lamb on Friday (7 p.m.); the Bears lost the first meeting at home by nine. Expect a bigger margin this time around.
Potential upset: I would be shocked if there were any upsets on Friday night. There simply aren't chances for it. But let's see if Dartmouth can keep it close against Yale at home (7 p.m.). Sure, Dartmouth only has three Division-I wins all season and Yale is 16-6 this season, but I think the Big Green will hang in there. Dartmouth has only lost by double-digits at home twice this season.
Three things to keep an eye on:
Florida Gulf Coast has had a surprising season in the Atlantic Sun this year, and the Eagles currently sit in fourth place. Stetson comes to visit (7 p.m., ESPN3).
How will Princeton respond after handing Harvard its first league loss last weekend? The Tigers host Columbia (7 p.m., ESPNU).
Nothing else. Seriously, there are only seven games. With five categories, there can't be three more things to watch.
More College Basketball coverage