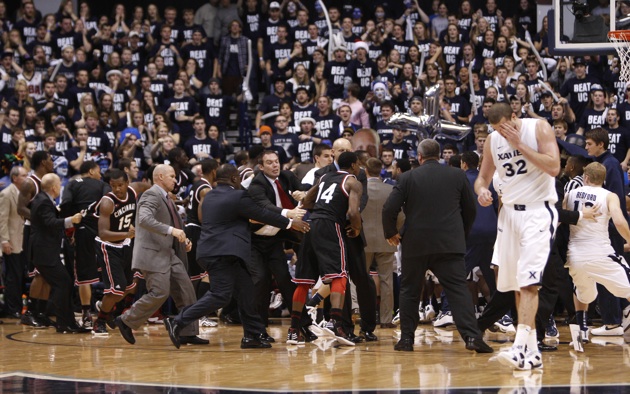 Cooler, smarter heads have prevailed and it appears Xavier-Cincy will continue their rivalry. (US PRESSWIRE)

By Matt Norlander
The brouhaha that briefly marred college basketball's reputation in December won't prevent one of the most intense rivalries from continuing as (to be) scheduled.
The
Cincinnati Enquirer is reporting
perspective has prevailed: the Cincinnati-Xavier basketball rivalry will most likely keep on keeping on in the coming years. The fight was of course unacceptable, and people beyond the players (namely the officials who let things get past the point of civility) were at fault for the transgressions. Animosity has always been the most pungent ingredient to X vs. Cincy, but so long as 2011's Crosstown Shootout fiasco was an aberration, there's no reason to stop this once-a-year appointment.
"Every indication is that we are going to play next year," University of Cincinnati president Greg Williams said Monday. "We're looking at it. (Xavier University president) Father Graham and I have talked about it a number of times."

Williams, who emphasized that a final decision has not been made, said a group of advisors is looking at "what the game should look like going forward" and that the group will make recommendations to him. Asked if any possible changes might include moving the game to a neutral site, Williams said, "There's been a lot of issues that need to be considered. I don't want to pre-empt any recommendations that a committee might make."

Xavier has always been in favor of continuing the rivalry, said XU athletic director Mike Bobinski.

"I haven't changed my thoughts, nor do I believe Xavier has changed our thoughts at all," Bobinski said. "Absolutely, we would like to see the game continue for the good of both institutions, college basketball, the city, all of the above. We all agree we've got work to do to put a different feel and flavor to the thing, but it's worth doing so. Those conversations are yet to come."

Bobinski said he would be opposed to playing the game at a neutral site.
Those quotes are pretty relieving. You've got men at the head of the table for each school speaking matter-of-fact-like about the rivalry, its importance and the perspective of what it means to each program, its fans and the community. Williams and Bobinski are in touch with it all, and that's relieving to see.
Expect the final decision/formal word on the rivalry's continuation in March. There's still debate over whether the game should be played on a neutral court. I think keeping it in home arenas is fine, you're just going to have to up the security very noticeably in the next few years. Fans will be fans and I'm sure a few who don't even know it yet are already destined to get themselves thrown out.
But as long as the players stay in the game and basketball is basketball, one of the sports top-five rivalries deserves to continue.