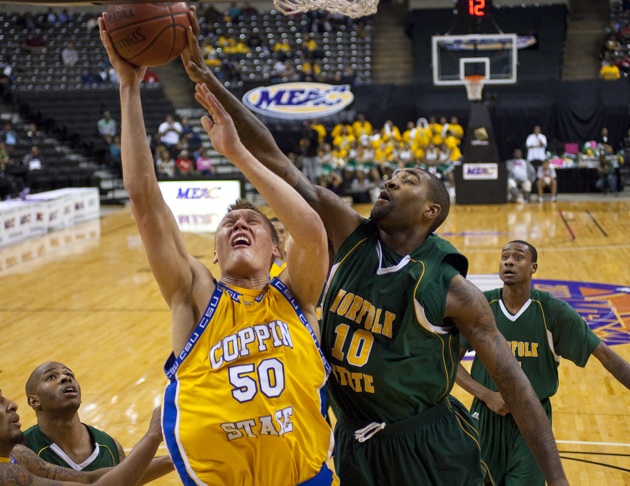 Kyle O'Quinn played just one year of high school ball. Now, he has a pro career in his future. (Mark W. Sutton/Norfolk State)
If you had asked Kyle O'Quinn back in high school if he thought he would have a future in professional basketball, he would have laughed at you.
After all, O'Quinn was just 5-foot-11 as a high school freshman in New York, and only played one year of high school basketball. He had just one scholarship offer coming out of high school, from the MEAC's Norfolk State. Others were sniffing around, but no one else was willing to take a chance on the raw big man. His family didn't want him to go to prep school, so he jumped on the opportunity to head to Virginia and play for Norfolk State.
Now, as a 6-foot-10 senior, O'Quinn is dominating on the inside. Over the last two seasons, the big man is averaging 16.2 points, 11.0 rebounds and 3.1 blocks per game. Because of his potential, he could have a future in the sport.
"I'm getting a lot of good feedback," O'Quinn said. "I didn't think I would play college basketball, of course not. You couldn't have told me that."
O'Quinn has been one of the most improved big men in the country over the course of four years, going from someone who didn't even know the fundamentals of basketball to a player who can carry the Spartans to the NCAA tournament. He didn't see it coming; no one saw it coming.
When O'Quinn got to Norfolk State, he had no dreams of dominating the league. He just didn't want to be a benchwarmer.
"The basics weren't basics to me," O'Quinn said. "You could say pick and roll, and I would look at you like I never heard of that before."
Because of his height, his lack of experience didn't matter much when he first got to Norfolk. O'Quinn was thrown into the fire immediately.
"I was very raw. I never played under a coach," he said. "In high school, we had two coaches and three parent volunteer. I had a lot of help from the seniors. I was the only freshman my freshman year here."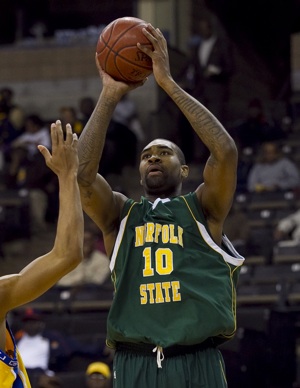 O'Quinn has averaged 16.2 points, 11.0 boards & 3.1 blocks over the last two seasons. (Mark W. Sutton/Norfolk State)
As O'Quinn saw more minutes and got more experience on the basketball court, he continued to improve. From his freshman year to his sophomore year, his numbers more than doubled, going from 5.3 points and 3.4 rebounds to 11.5 points and 8.7 rebounds.
"It was just fundamentals and game situations," O'Quinn said on what made the biggest difference in his rapid improvement. "What move to go on, what to do now, what shouldn't I do, when to put the foot on the gas."
Despite being one of the most productive players in the nation, O'Quinn doesn't get a ton of attention for being the dominant big man that he is. True to his humble – and hilarious, might I add –self, though, O'Quinn doesn't feel like he's underrated.
"I'm in the MEAC," he said. "It's not one of the most televised leagues. People just need to see my name as a stat leader or a stat stuffer. It wasn't like people were saying, 'I can't wait to see what Kyle O'Quinn will put up.'"
What would help O'Quinn get some national attention would be a trip to the NCAA tournament. Norfolk State rolled out to an 8-0 record in the league after beating Drexel, TCU and LIU-Brooklyn in the non-conference season. However, the Spartans have stumbled recently, losing three of their last six games. They now sit behind Savannah State in the league standings heading down the stretch.
Of course, the rest of the teams don't have a dominant big man like O'Quinn.
"That would be great. I think a million 6-foot-10 seniors would say that," he said. "It would be a nice mark on my career here at Norfolk State."
What a difference five years makes.