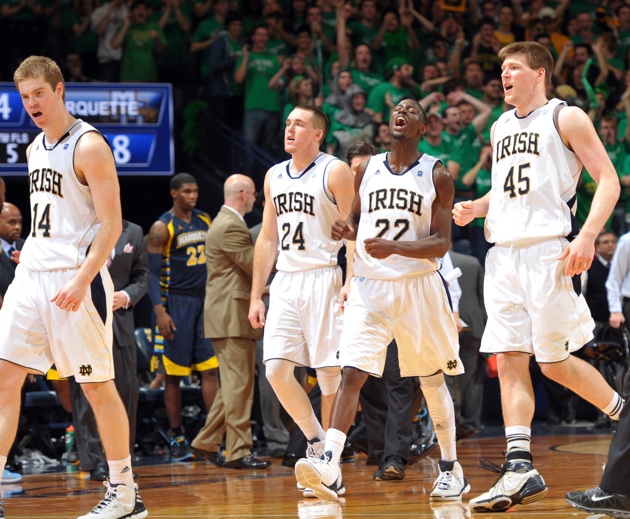 Notre Dame has won eight in a row, and could hurt West Virginia's at-large hopes tonight. (US Presswire)
If Tuesday night was the chance for bubble teams to get marquee wins and boost their resume, Wednesday is the night where they simply have to avoid bad losses. Several squads are off the bubble with a loss tonight.
Note: All times are Eastern, and the rankings are according to the AP poll.
Best game: West Virginia at No. 20 Notre Dame (7 p.m., ESPN2). Interestingly, this is the only game of the night between two projected NCAA tournament teams. West Virginia has lost five of its last seven, but could really solidify its profile with a win at Notre Dame. The Fighting Irish have won eight in a row, including Saturday's comeback win over Villanova. They are currently tied for second in the standings. The battle inside between Kevin Jones and Jack Cooley should be fun to watch. Both guys are unbelievable in the offensive glass.
Second-best game: No. 6 Michigan State at Minnesota (8:30 p.m., Big Ten Network). Minnesota is pretty much off the bubble at this point, as the Golden Gophers have lost three in a row and five of their last seven. They sit at just 5-9 in the league. Meanwhile, Michigan State has planted itself in the No. 1 seed discussion, after five straight wins gave the Spartans the inside track to a Big Ten title. The only way Minnesota wins is if it avoids extended offensive droughts, and also forces Michigan State to turn it over or shoot long jumpers.
Another one to watch: South Florida at No. 2 Syracuse (7 p.m., ESPN3). Despite the lack of quality wins, South Florida finds itself firmly on the bubble with a 10-4 Big East record. The Bulls could really help their resume with a road win at Syracuse, which can clinch a share of the league title with a win tonight. In order to pull the upset, South Florida needs to take care of the ball – Anthony Collins has helped in this area – and keep Syracuse on the perimeter. The Orange will dominate down low.
Guaranteed win: In what might be the weirdest non-conference game of the season, North Carolina Central visits Indiana tonight (7 p.m.). Why? Apparently it was to avoid back-to-back bye weeks in the schedule. It's February 22, and the Hoosiers could probably use the rest before a tough finishing stretch. If I were NC-Central, I certainly wouldn't pass the game up. With that said, Indiana will roll.
Potential upset: The Atlantic-10 is getting more interesting everyday. On Wednesday night, No. 22 Temple travels to La Salle (7 p.m.) in a game that means more than one might think. The Explorers, while not having a great resume right now, have a remaining schedule that makes third-place possible. If they win tonight, and run the table until the A-10 semis, is that enough for an at-large? Temple needs to get out on La Salle's shooters if it wants to avoid an upset.
Three things to keep an eye on:
Before the season, UC Santa Barbara visiting Long Beach State (11 p.m., ESPN2) would have been must-see hoops. Now, it's one of the last obstacles remaining for LBSU to go unbeaten through the Big West.
Several bubble teams can kiss their chances goodbye with a loss tonight: Wyoming at No. 25 San Diego State (10:30 p.m., Mountain); Dayton at Duquesne (7 p.m.); Richmond at Saint Joseph's (7 p.m.); Ole Miss at Tennessee (7 p.m., ESPN3); Houston at Marshall (7 p.m.); Georgia at LSU (8 p.m., ESPN3); UCF at Rice (9 p.m.); and any of the CAA teams.
Texas-Arlington leads the Southland with a 12-0 record, but it can clinch a share of the league title tonight on the road at second-place McNeese State. A loss, and the race picks up some intrigue.
More College Basketball coverage