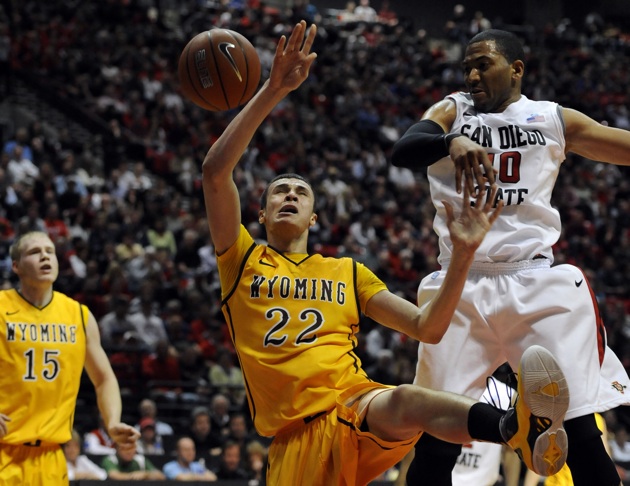 Wyoming saw its bubble burst with an overtime loss at San Diego State. (US Presswire)
Tuesday was a prove-it day for bubble teams, as seven of them played ranked teams and another two had to pass road tests. Only three teams out of that group came out victorious. Wednesday is another huge night for bubblers, but in a different ways. Only a few have a chance to get statement wins, but nearly a dozen teams have to avoid bad losses. With so many different things at stake, we've expanded our categories too.
Note: This page will be updated throughout the night, with bubble discussion and analysis.

Status quo
Purdue: The Boilermakers didn't suffer the same fate as Illinois over the weekend, throttling Nebraska out of the gate en route to an 83-65 win. The win moves the Boilermakers to 8-7 in the Big Ten heading into their final stretch against Michigan, Penn State and Indiana. If Purdue can get one of the two road games (Michigan, Indiana), it will feel awfully comfortable heading into the conference tournament.

Memphis: The Tigers suffered a really bad loss at home over the weekend to UTEP, so they could not afford to lose another questionable game. That wasn't a problem, as Memphis handled East Carolina with ease in the second half. The Tigers also took over first place in the league standings after Southern Miss' loss, but their Selection Sunday fate will be decided down the stretch. They have road trips to Marshall and Tulsa sandwiched around a home against UCF. The Tigers need to prove themselves in those three games.

Iowa State: Heading into a very difficult three-game stretch to finish the season, the Cyclones needed to beat Texas Tech on Wednesday to get to 10 wins in the Big 12. It wasn't as easy as expected, but they still dominated the final 10 minutes en route to an 18-point win. With road games at Kansas State and Missouri and a home date with Baylor still on the docket, Iowa State will have chances to seal its bid. One win would make the Cyclones feel pretty good.

Hurt itself

West Virginia: The Mountaineers hung with Notre Dame for a half, but the Fighting Irish came out of the break with a bang and simply ran away with the game. The loss is West Virginia's sixth defeat in eight games, and drops them to 7-8 in the conference. On Friday, Marquette comes to Morgantown in a game that would really solidify the Mountaineers' at-large hopes. If they drop that one, they need to win the final two games of the regular season and then do some damage in the league tourney.

Southern Miss: Things are getting dicey for the Golden Eagles. They survived a loss to Houston over the weekend and remained in pretty good shape, but Wednesday's double-overtime loss to UTEP (by the way, when did the Miners become such a giant-killer?) moves them into suspect territory. They are now tied for second-place with Tulsa in the standings and have three sub-100 losses. Southern Miss has to survive its next two games -- Rice and SMU -- before the season finale against Marshall. The Golden Eagles are still in, but nowhere near as safe.

South Florida: Despite a gaudy Big East record, the biggest knock on the Bulls is their lack of good wins and their soft conference schedule. They jumped out to a double-digit lead at Syracuse, but couldn't make plays late in the game and fell short. They are now 10-5 in the league with three games left. They have Cincinnati, Louisville and West Virginia remaining -- two of them coming at home -- so there are still chances. Right now, though, one good win over Seton Hall isn't getting it done.

Saint Joseph's: The Hawks were one of the final teams out of the bracket this week, but that will change next week after their loss at home to Richmond, which came into Wednesday with an RPI nearing 150. Unless the Hawks beat Temple and St. Bonaventure to finish the season and then get a couple quality wins in the Atlantic 10 tournament, Phil Martelli's club won't have a happy Selection Sunday.

Minnesota: Farewell, at-large hopes. The Golden Gophers have now lost four in a row and six of their last eight, and suffering a heartbreaking loss to Michigan State. Tubby Smith's troops had the game in their grasp, but completely malfunctioned in the last three and a half minutes and will now be relegated to the NIT. Barring a crazy run the rest of the season, Minnesota is done.

UCF: The talk of the Knights as an at-large team seemed to be jumping the gun a little bit in the past couple weeks, and Wednesday's horrible second-half loss to Rice pushes them further out of the field. They now drop to a fourth-place tie in the league standings, and still have to go to Memphis in next-to-last game of the season. 14 of their 17 wins are sub-100.
Still alive

Dayton: The Flyers made it into several brackets this week on the basis of their seven top-100 wins and victories over Temple and Saint Louis. However, they are only one questionable loss from falling from the picture. They survived on Wednesday, going on the road and beating Duquesne. They still probably need to win their final three regular-season games.

Marshall: The Thundering Herd shook off a double-digit first half deficit to dominate Houston in the second half. It is their third straight win, and with chances sitll remaining against Memphis and Southern Miss, Marshall has the opportunity to play itself into the league title -- and at-large -- race.

Drexel: The Dragons still have plenty of work to do to move into consideration for an at-large berth, but the Dragons stayed alive with a win over James Madison. An outright regular-season title could really help their profile, so they need to win at Old Dominion on Saturday and also hope George Mason drops one to VCU.

VCU: Like Drexel, VCU just needs to keep winning and hope quantity of wins is enough for the Selection Committee. The Rams survived a trip to UNC-Wilmington on Wednesday night, and now get a shot at co-league leader George Mason this weekend. A win there and a Drexel loss to Old Dominion would give the Rams a share of the regular-season title.

LSU: The Tigers popped on the radar in the past week, and they kept their winning ways going with a victory over Georgia on Wednesday. That's now four straight victories for the Tigers, leaving them 7-6 in the SEC -- good enough for fourth in the conference standings. If they can win out in the regular season, LSU will have an interesting at-large case. It owns wins over Marquette, Alabama and Mississippi State.

Bubble Popped

Wyoming: The Cowboys looked like they were about to revive their at-large hopes by leading at San Diego State for most of the game. However, the Aztecs tied it late and then dominated the overtime period. Wyoming is now 4-7 in the Mountain West and in sixth place. Their at-large hopes are likely gone.

Ole Miss: The Rebels have completely fallen off since getting some serious consideration a couple weeks back. Their 13-point loss at Tennessee on Wednesday night was their third in a row, and fifth in their last six games. Barring an amazing run to -- at least -- the SEC title game, no NCAA for them.

La Salle: If the Explorers could have won out and then done damage in the conference tournament, they had a chance. Their overtime loss to Temple on Wednesday ends their at-large hopes.

George Mason: The Patriots can still win a share of the CAA title with a win over VCU this weekend and a Drexel loss, but their loss at Northeastern on Wednesday night ruins their at-large hopes. Despite their 14 CAA wins, they have just two top-100 wins and four sub-100 losses.