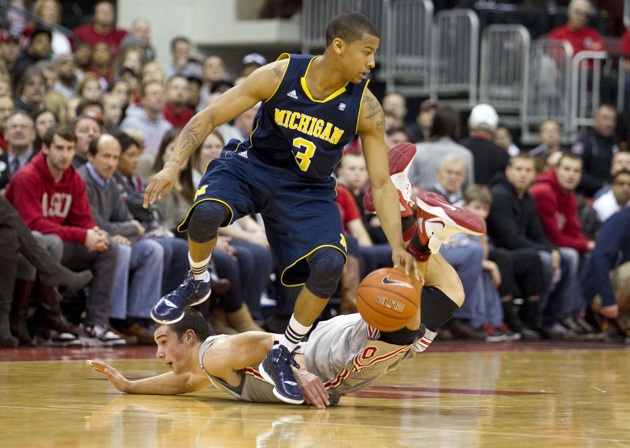 Trey Burke has Michigan in the thick of the Big Ten title hunt. Without him, where would the Wolverines be? (US Presswire)
With only a couple of weeks left in the season, the proverbial Freshman Wall of January is in the rearview mirror and the top newcomers are making a push. Nearly every single one of the top 10 newcomers is playing outstanding ball lately – and many of them have their teams in the thick of a conference title race. Which brings us to the question: which freshman is most valuable to his team? Anthony Davis would still be No. 1, but would the rest of the top 10 be the same? Trey Burke might be No. 2, and someone outside the top 10 might make the rankings. Just some food for thought.
The Freshman of the Year rankings are released every Thursday afternoon, shortly after Jeff Goodman and Gary Parrish's Player of the Year rankings.
1. Anthony Davis, Kentucky (Last Week: 1): 13.8 ppg, 9.8 rpg, 4.8 bpg, 64.6 FG%
Davis didn't dominate at either end over the past week, but he's still the biggest game-changer in college basketball. Took two 3-pointers against Mississippi State; he had only attempted six all season.
2. Cody Zeller, Indiana (Last Week: 2): 15.7 ppg, 6.6 rpg, 64.5 FG%
While Zeller continues his stellar offensive play, his rebounding is the biggest positive right now. He's averaging 8.7 boards in his last six games, after a poor January on the glass.
3. Trey Burke, Michigan (Last Week: 5): 14.3 ppg, 3.5 rpg, 4.8 apg
Burke has Michigan in the thick of the Big Ten race, and he came up big in the past week. He averaged 18.0 points, 4.0 rebounds and 4.5 assists in wins over Ohio State and Northwestern.
4. Michael Kidd-Gilchrist, Kentucky (Last Week: 3): 12.2 ppg, 7.8 rpg
Kidd-Gilchrist bounced back from a rough offensive stretch with a great performance against Mississippi State, going for 18 points and 10 rebounds – and locking down Dee Bost in the second half.
5. Moe Harkless, St. John's (Last Week: 4): 15.4 ppg, 8.7 rpg
Harkless played 40 minutes in each of his last two games, and shows no signs of slowing down. He nabbed double-figure rebounds in both games, and shot 6-for-9 on Monday.
6. Tony Mitchell, North Texas (Last Week: 6): 15.7 ppg, 10.4 rpg, 3.0 bpg, 58.7 FG%
Mitchell dominated as soon as he moved up the rankings, getting 18 points, 15 boards and six blocks. But he struggled over the weekend, suffering from foul trouble en route to seven points.
7. Brad Beal, Florida (Last Week: 8): 14.5 ppg, 6.3 rpg
Beal continues to perform at a very high level over the last month. He's become Florida's most consistent player, averaging 16.3 points and 7.4 rebounds in his last eight games.
8. Austin Rivers, Duke (Last Week: 7): 15.0 ppg, 3.2 rpg, 39.8 3PT%
Rivers is starting to get comfortable as a 3-point shooter and go-to-guy on the perimeter. He scored 16 points in each of his last two games, hitting four 3-pointers.
9. Tony Wroten, Washington (Last Week: 9): 16.5 ppg, 4.9 rpg, 3.5 apg
Wroten's game against Arizona was what the Huskies need from him (aside from overshooting). He had 22 points, nine rebounds – and just two turnovers. He's great off the dribble, just needs to play under control.
10. D'Angelo Harrison, St. John's (Last Week: 10): 16.9 ppg, 3.7 rpg
To be honest, we're looking for reasons to move new players onto the list, but Harrison is making that harder and harder. He averaged 22.5 points, 6.5 rebounds and 5.0 assists in his last two games.
Notes:
Once again, no one moved in or out of the rankings.
Arkansas' B.J. Young was one of the last ones left out of the rankings. Despite the Razorbacks' struggles of late, Young is rolling. He's averaging 23.0 points in his last four games, shooting 31-for-55 from the field and 10-for-20 from 3-point range.
Butler's Roosevelt Jones has been a major part of the Bulldogs' resurgence, averaging 11.8 points and 9.0 rebounds in his last eight games.
Myck Kabongo is rounding into form. He's putting up 15.0 points and 4.3 assists in his last four games.
Providence's LaDontae Henton has played at least 39 minutes in 11 of his last 12 games. That's unbelievable for a 6-foot-6 frontcourt player.
Anthony Collins continues to transform the South Florida offense at the point guard position. He's averaging 11.1 points and 6.7 assists in his last seven games.
Kevin Pangos was on the verge of breaking into the rankings, but he shot 2-for-11 from 3 in his last two games, averaging just 8.0 points.
Notre Dame's Jerian Grant is averaging 13.8 points and 5.2 assists in his last nine games.
The injury to Rodney Hood could be huge for Mississippi State. He gives the Bulldogs a bonafide third or fourth scorer who can knock down outside shots or get into the mid-range.
Prior to Sunday's subpar performance against UCLA, Stanford's Chasson Randle was averaging 18.7 points in his previous three games.
Iowa forward Aaron White is putting up 14.5 points and 10.3 rebounds in his last four games.
Nice couple of games from Western Kentucky's Derrick Gordon: 14.5 points and 10.5 boards in the last week.
Freshman leaders – Points: Kyle Vinales, Central Connecticut State (18.1); Rebounds: Tony Mitchell, North Texas (10.4); Assists: Dylan Garrity, Sacramento State (6.8)