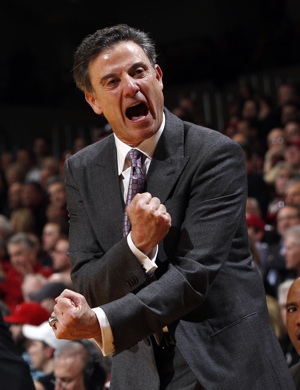 Rick Pitino wasn't pleased with the officiating or the Cincinnati fans after Louisville's loss. (US Presswire)
Louisville's 60-56 loss at Cincinnati on Thursday night was a tough one for the Cardinals. It could prevent them from getting a top-four seed in the NCAA tournament, and the defeat also makes it difficult to get a top-four seed – and double-bye – in the Big East tournament.
All in all, clearly not a great night for Louisville.
But it seems Louisville head coach Rick Pitino is not just upset about his team's loss. According to Card Chronicle, Pitino went off in the postgame press conference about the officiating.
The officials "are really starting to get under my nerves," Pitino said. "I don't know who the hell they think they are. The level of arrogance, I just cannot believe it."
And more, according to our RapidReporter Evan Hilbert: "I have a problem with the officials. They thought they were the three guys going into the Referee Hall of Fame the way they talked to me. I don't know what they're looking at sometimes, but they're so positive, they should really go into the Referee Hall of Fame."
Wow.
Looking at the box score, both teams had the same number of fouls (16), and each team's marquee big man – Yancy Gates for Cincinnati, Gorgui Dieng for Louisville – were saddled with four fouls. Throw in the fact that Louisville had to commit fouls late in the game to get Cincinnati to the free-throw line, and it doesn't seem egregious in either direction.
With that said, there were some questionable out-of-bounds calls, as well as a couple of travel (and non-travel) calls that went against Louisville at key points.
And Pitino wasn't done with his venom. He wasn't fond of how the Cincinnati fans acted. He did say Cincinnati had the biggest homecourt advantage he's seen this season, and would like to see the Louisville crowd bring the same energy on Sunday.
There's one caveat, though, according to Pitino: "without some of the low-class behavior."
He would not give specifics about that behavior, of course, but we know the crowd was hostile toward Louisville freshman Chane Behanan. Behanan is a Cincinnati native who committed to the Bearcats after his freshman year in high school before moving to Kentucky and changing his mind later on. Behanan found the atmosphere "fun" and "electric," for what it's worth.
Pitino was clearly upset about the loss, but the defeat wasn't because of the officiating or the fans. It was because Louisville shot 1-of-14 from 3-point range, turned the ball over 14 times and allowed 15 offensive rebounds.
At least he found a way to defer attention from his team.