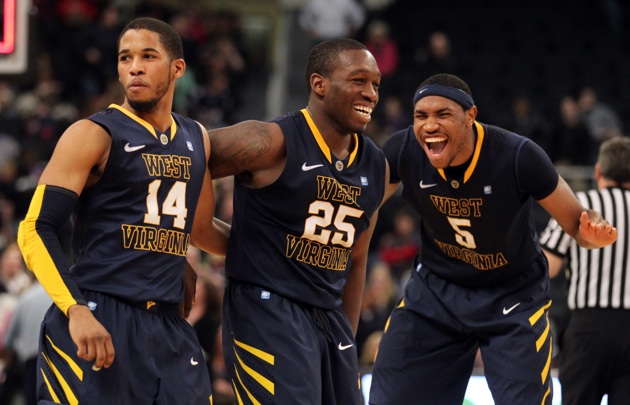 Without a win at home vs. Marquette tonight, West Virginia could be on the outside looking in for the Big Dance. (US Presswire)
This week doesn't feature too many marquee matchups, or ranked teams played other ranked teams, but it's a prove-it week for bubble teams. Wednesday is slightly different, as many teams simply have to avoid bad losses.
Note: All times are Eastern, and the rankings are according to the AP poll.
Best game: No. 10 Marquette at West Virginia (9 p.m., ESPN). This is a must-win game for West Virginia, which has lost six of its last eight games. A victory would get the Mountaineers back to .500 in the Big East, and would add a quality win. Meanwhile, Marquette is in the running for second-place in the conference. The key in this game will be the Golden Eagles' defensive rebounding against Kevin Jones and West Virginia's offense rebounding. Moreover, can the Mountaineers keep up with Marquette when it forcing turnovers and running the floor?
Second-best game: Fairfield at Iona (9 p.m., ESPNU). If you had asked us back in January if Fairfield would be in position to forge a tie for first place with a win on Friday night, we would have looked at you pretty strangely. The Stags have won seven MAAC games in a row, with the last loss coming at home to Iona. Iona has a one-game lead on Fairfield and Loyola (Md.), but gets two home games to finish the season. The pace of this game will be a factor, as Iona wants to speed things up. Scott Machado vs. Derek Needham should be fun.
Another one to watch: Butler at Valparaiso (7 p.m., ESPNU). Valparaiso has already clinched the regular-season title, but the favorite heading into the conference tournament could be Butler. The Bulldogs have won five in a row to move to 11-6 in the league, and could finish in second. Butler has been playing very solid defensively, but it will need to defend the 3-point line and avoid silly fouls. Moreover, it needs to hit outside shots.
Guaranteed win: Manhattan has lost three of its last four conference games to drop to fourth place in the standings, but the Jaspers have a nice bounceback game tonight against Canisius (7 p.m.). Canisius is 1-15 in MAAC play and lost by 12 to Manhattan the last time the two teams played. With the way Manhattan plays defense, this one could get out of hand in a hurry.
Potential upset: Loyola (Md.) blew its chance to get a stranglehold on the league by losing two in a row after taking over first place, but the Greyhounds are still in the hunt for a title. However, they have to travel to Rider tonight (7 p.m., ESPN2). The Brocs are 5-2 at home in the conference, and they shoot the 3 as well as any team in the league.
Three things to keep an eye on:
Harvard looks for revenge against the only team to beat it in the Ivy this season, Princeton (7 p.m.). A home sweep this weekend would put the Crimson in good position to win the automatic bid.
Idaho probably won't score 115 points like New Mexico State did on Thursday, but the Vandals need to win at Utah State to keep pace for second-place in the WAC (9:05 p.m., ESPN3).
The race is on for second-place in the Ivy League, and a win by Penn at Dartmouth (7 p.m.) would give the Quakers a chance to tie for first on Saturday at Harvard. Yale also hosts Columbia (7 p.m.).
More College Basketball coverage