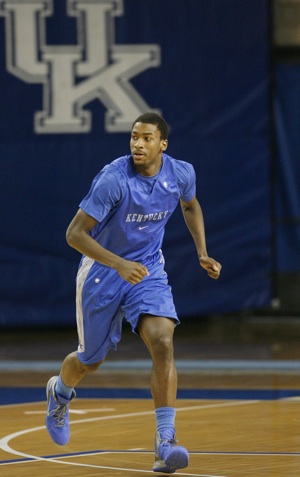 Don't write off the idea that Kidd-Gilchrist would return for his sophomore season. (US Presswire)
It's around this time every year when we start to see some of the top players in the country swear they're returning to college next season. And then, come April, they go pro anyway.
As a result, most people took Michael Kidd-Gilchrist's comments after Kentucky's win over Vanderbilt with a grain of salt.
"I'm graduating here. I'm not going nowhere. I'm staying at Kentucky," Kidd-Gilchrist said, according to Brett Dawson of Rivals.com. "I'm dead serious. I don't know why y'all laughing."
Will Kidd-Gilchrist definitely return to school? I have no idea. I wouldn't doubt that he's thinking about it, though.
Kidd-Gilchrist is just wired differently than most of the star freshmen and college players these days. He's always been that way. He has never truly carried himself like a superstar, and even his skillset doesn't resemble that of a typical "future NBA All-Star." Kidd-Gilchrist outworks players, he outhustles players and he's a winner above everything else.
If Anthony Davis had said the same thing about returning to school, would I believe him? Not a chance. He's the No. 1 pick in the draft.
Kidd-Gilchrist has moved all the way up to No. 3 in several mock drafts, but I don't think he's overly concerned with that. He's not the kind of player who will regress with another year in college. Kidd-Gilchrist doesn't have a ton of people feeding him all sorts of conflicting information; he has a good support team around him that will help him make the right decision.
Like I said, do I think Kidd-Gilchrist is a lock to return to Kentucky for his sophomore season? No. But I certainly wouldn't write off the idea when it comes to him.