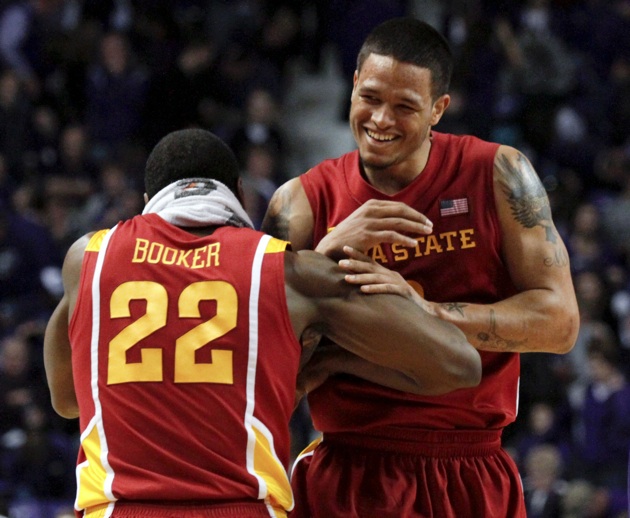 Iowa State beating Kansas State on the road highlighted a big day of bubble winners and losers. (AP)
Another February Saturday means another monster day for bubble implications. With the overall bubble so weak this season, there are still plenty of bids up for grabs in the NCAA tournament. Moreover, several teams are trying to play themselves into consideration after being an afterthought for much of the season. In the past week, we actually saw some teams play their way into the tournament, as opposed to losing and just hanging on. Which will we see on Saturday?
Note: This page will be updated throughout the day, with bubble discussion and analysis.
WINNERS:
Iowa State: The Cyclones needed one win in their last three games against Kansas State, Missouri and Baylor to feel comfortable about their NCAA hopes. They broke through on the road on Saturday, holding off Kansas State down the stretch for the victory. Iowa State is now 11-5 in the Big 12, with two wins over Kansas State and another win over Kansas. Moreover, the lack of any sort of good win away from home is no longer a glaring weakness.

Purdue: The only thing holding the Boilermakers back in the at-large hunt was the lack of good wins over the Big Ten's best teams. That is no longer the case after Saturday, as Purdue went into Ann Arbor and knocked off Michigan. It gives the Boilermakers a marquee victory, to add to Temple. Purdue improves to 9-7 in the Big Ten, with a home game against Penn State coming up this week. With this win, the Boilermakers are in very good shape heading forward.

Alabama: The Crimson Tide regained the services of the suspended JaMychal Green, and they cruised to a win over fellow bubbler Mississippi State. It was their third victory in a row, and sixth in their last eight games, to solidify their fourth-place spot in the conference pecking order. A home game against Auburn, and a road trip to Ole Miss, still await, but Alabama is in good shape for now. The win over Wichita State looks better and better, and the victory over Purdue is also solid.

Arizona: The Wildcats just need to keep winning in order to stay in consideration for an at-large bid. They just survived on Saturday, needing a missed jumper from UCLA's Jerime Anderson to come out with a 65-63 victory. Arizona has now won seven of its last eight games, and sit at 12-5 in the conference standings. The profile is still not impressive in general, with only a win over California standing out. However, if the Wildcats win at Arizona State to finish the season and then get some wins in the conference tournament, it could be tough to leave them out.

Saint Joseph's: The Hawks picked up a huge win Saturday night over Temple, their fourth win in their last five games. The win also gives them a second top-25 victory, with a previous victory over Creighton also on the docket. Saint Joe's has also defeated Dayton and Drexel, which could help in bubble comparisons. A win at St. Bonaventure on Wednesday would get them to 10-6 in the Atlantic-10, and a trip to the conference tournament semifinals could get it done.

Memphis: The Tigers were in pretty good shape, but they really solidified things by beating Marshall on Saturday. It kept them on pace to stay atop the league, and it also gives them another decent win for the resume. The next two games will still have a say in their Selection Sunday fate, though -- vs. UCF and at Tulsa. Win both, and Memphis won't even be sweating its inclusion to the NCAA tournament.

Washington: The Huskies didn't make it easy on themselves, but they did come out with a win at Washington State. They are still tied atop the Pac-12 standings with California, which is a nice trump card come Selection Sunday. The lack of marquee wins is still a problem, but a sweep this week over UCLA and USC would guarantee at least a share of the title. Washington will be a very interesting case for inclusion.

Drexel: The Dragons had already clinched the No. 1 seed in the CAA tournament, but their win at Old Dominion on Saturday gave them the outright regular-season title. That is a big-time addition to the at-large resume, especially since Drexel has won 17 in a row and has lost just once in 2012. There aren't any great wins on the docket, but a run to the CAA title game would give them 27 wins -- would the Committee leave them out?

Texas: For much of Saturday, it looked like the Longhorns might kiss their NCAA hopes goodbye. However, they came back down the stretch against Texas Tech and pulled out a late victory. The win snapped a two-game losing streak, and puts them back at .500 in the Big 12. A win next Saturday at Kansas would likely clinch a bid, but without a victory there, Rick Barnes' club will need to make some noise in the conference tournament.

Xavier: Jumping out to a 14-0 lead and holding Richmond scoreless for about 10 minutes was enough for the Musketeers to get the win and improve to 9-5 in the conference. The big game for Xavier will be this week at Saint Louis. If the Musketeers can get the key road win, they could feel a lot better about their chances heading into the A10 tournament.

Dayton: The Flyers has now won four of its last five after handling Massachusetts on Saturday. Their record in the Atlantic 10 improved to 8-6, which puts them in position to potentially make a run to third-place. The wins over Temple, Saint Louis and Alabama are pretty solid, and they also defeated Xavier. Upcoming, the Flyers have winnable games against Richmond and George Washington -- a 10-6 finish in the league and a couple of wins in the conference tournament could get it done.

Southern Miss: The Golden Eagles don't like making anything easy, barely escaping with a two-point home win over Rice to move to 10-4 in the league. They remain one game behind Memphis in the conference standings, but should take care of business against SMU this week. Next week's game at Marshall could be a key win.

Northwestern: John Shurna's two free throws with 2.6 seconds left might have saved the Wildcats' season. A loss to Penn State would have really hurt their at-large hopes, but now they still have a chance to finish .500 in the Big Ten. It won't be easy, though. The Wildcats host Ohio State this week, which would be a huge chance at a marquee victory, and a road trip to Iowa next weekend looks tough. A win over Michigan State looks very good, but 2-8 vs. the top 50 isn't pretty. They might need to beat Ohio State.

VCU: The Rams fell short of the CAA title, but beating George Mason gave them 14 wins in their last 15 games and another top-100 win for the resume. They still need to make a run to the championship game of the conference tournament, but a loss here would have dropped them to third in the league standings and would have made it difficult to get a bid.

BYU: The Cougars only had to avoid a bad loss to Portland, and they obliged, getting the win and finishing in third in the WCC standings. With only a win over Gonzaga standing out on the resume, it's likely that BYU needs to make a run to the conference title game -- which would mean another win over Gonzaga in the semifinals.

Oral Roberts: The Golden Eagles improved to 26-5 overall with a two-point win at Southern Utah, finishing 17-1 in the Summit League. Should they lose in the conference tournament, they will be an interesting look. The best win is over Xavier, but the computer profile is better than several bubble teams and they've played consistently well all season.

UCF: The loss earlier in the week at Rice really hurt the Knight's chances, but their win over UTEP keeps them in the conversation for now. They need to win at Memphis on Tuesday to have a shot.

Nevada: It took three overtimes, but the Wolf Pack finally dispatched of Fresno State to improve to 11-1 in the WAC. Will a gaudy record be enough for an-large bid? Probably not, but they have defeated Washington. Nevada just needs to keep winning.
LOSERS:
Saint Louis: The Billikens should have felt pretty confident about their NCAA hopes heading into the weekend. The lack of great wins was masked by a good Atlantic 10 record and wins in nine of their last 10 games. On Saturday, Saint Louis lost to 5-23 Rhode Island -- and now Saint Louis gets a second look and is no longer a lock. The Billikens don't have a single top-50 win and the URI defeat is in the sub-250 region. Tuesday's hoem contest with Xavier is now a must-win for both teams. SLU is still OK, but things could get dicey.

Mississippi State: The Bulldogs are falling apart. After making a valiant effort at Kentucky, they looked terrible in the second half against Alabama and fell for their fifth loss in a row. They are now just 6-8 in the conference, and could be on the outside looking in at this point. The resume isn't overly impressive, with the win over Vanderbilt the only truly standout victory. Wins against Alabama and West Virginia are OK. The Bulldogs still face South Carolina and Arkansas down the stretch -- they need to win both. And then win at least one or two in the SEC tourney.

Seton Hall: After beating Georgetown this week, the Pirates were in good shape -- as long as they could avoid a bad loss to either Rutgers or DePaul down the stretch. Well, they lost to Rutgers on Saturday in overtime, and now head back to the bubble. If they can beat DePaul in the season finale and then get a win in the Big East tournament, things will look OK. They have a good computer profile (although the loss to Rutgers didn't help) and a really good win over Georgetown plus some other bubble victories. Today's loss does leave less room for error, though.

North Carolina State: The Wolfpack were not in good shape heading into the weekend, and they got their bubble completely popped by losing in overtime to Clemson on Saturday. They are now just 7-7 in the ACC, and the rest of the resume is still paltry. NC State is 0-8 vs. the top-50, has two sub-100 losses and its computer profile is getting worse. The best wins are over Miami (Fl.) and Texas. That's not going to get it done. They need to make a run to the conference tournament title game.

Connecticut: The Huskies came so close to feeling very comfortable about a bid, but they couldn't make the plays down the stretch against Syracuse and fell short. Right now, they would still get a bid due to their tremendous SOS and six top-50 wins. With that said, they need to win at Providence and home vs. Pittsburgh to get to 9-9 in the Big East and get some momentum heading into the Big East tournament. Things can still go either way.

Colorado State: After the Rams' victory over New Mexico earlier in the week, a win at San Diego State could have really solidified their profile. However, they fell short -- but get another chance at a marquee win on Wednesday against UNLV. The computer profile is pretty solid, with an RPI around 30. They do need another key victory, though. They're only 6-6 in the Mountain West, and have two sub-100 losses.
LSU: Well, that was fun. The Tigers had made their way to the bubble after winning four in a row to get to 7-6 in the SEC. However, after getting destroyed on the road at Ole Miss on Saturday, they're likely no longer under consideration. There are a couple of good wins on the docket, but the overall resume isn't impressive. LSU would need to win out and then do serious damage in the SEC tournament.

Marshall: The Thundering Herd were attempting to play themselves back into the NCAA discussion by taking advantage of their big shots down the stretch: vs. Memphis and vs. Southern Miss. If they could win both, they might have had a chance. Instead, they got destroyed down the stretch by Memphis, losing by 20 on their homecourt. Marshall is now amongst a large group of teams in the middle of Conference USA. Their NCAA hopes are extremely dim at this point.

Harvard: The Crimson now deserve a closer look after losing to Penn on Saturday night and moving back into a tie for first place with the Quakers. Should they stay tied, a one-game playoff will be necessary; if Harvard loses that one, will they get an at-large bid? Their best wins are over Florida State and Saint Joseph's, and they have an RPI in the high 30s. The loss at Fordham in early January looks horrible, but they're 13-3 away from home, and are 7-3 against the top-100. For their sake, they should just take care of business in the potential playoff.
More College Basketball coverage