Brad Stevens and his national darlings at Butler will need to run the table and win four consecutive games in seven days to get back to the Big Dance.
The Bulldogs have made two straight improbable appearances in the national title game, but now the odds are stacked against them as Stevens & Co., which has lost Gordon Hayward, Matt Howard and Shelvin Mack over the past two years, earned the No. 5 seed in this year's league tourney.
Valparaiso and first-year head coach Bryce Drew earned the top spot by virtue of going 14-4 in league play this season. The Crusaders, led by Player of the Year candidate Ryan Broekhoff, will host the second round and semifinals on March 2-3 and would also host the championship game -- if it gets that far.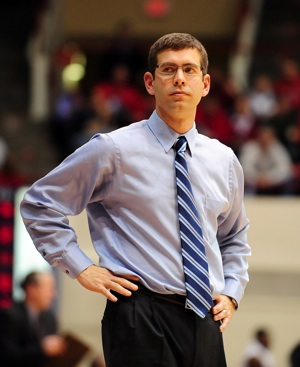 But there are several teams that could make a run at Valpo. Cleveland State was in control of the league at one point before stumbling late in the season, but Gary Waters' team still earned the double-bye. Detroit has Ray "Little Ray" McCallum and tied with a Milwaukee team that comes in on a four-game winning streak for third place.
Then you've got Butler - which doesn't have a star this year or enough offense, but you can't ever count out a Stevens-coached team. Not after what he's done the past two years.
Title game: Tuesday, March 6 on ESPN (9 p.m. ET)
BEST PLAYERS
Ryan Broekhoff, Valparaiso
Ray McCallum, Detroit
Alec Brown, Green Bay
Kendrick Perry, Youngstown
Trevor Harmon, Cleveland State
Conference RPI: 14
KenPom.com rating: 15
Sagarin rating: 12
NCAA Tournament Locks: None
NCAA Tournament Bubble Teams: None
Last NCAA Tournament Appearances:
Butler Bulldogs: 2011, 8 seed, lost to UConn 53-41 in the national championship game
Cleveland State Vikings: 2009, No. 13 seed, an 84-69 win over Wake Forest in the first round followed by an 71-57 loss to Arizona in the second round
Detroit Titans: 1999, No. 12 seed, an 56-53 win over UCLA in the first round followed by an 75-44 loss to Ohio State in the second round
Illinois-Chicago Flames: 2004, No. 13 seed, an 78-53 loss to Kansas in the first round
Loyola-Chicago Rambers: 1985, No. 4 seed, an 59-58 win over Iona in the first round, followed by an 70-57 win over SMU in the second round, followed by a 65-53 loss to Georgetown
Valparaiso Crusaders: 2004, 15 seed, an 76-49 loss to Gonzaga in the first round (as a member of the Mid-Continent Conference)
Wisconsin-Green Bay Phoenix: 1996, No. 8 seed, an 61-48 loss to Virginia Tech in the first round
Wisconsin-Milwaukee Panthers: 2006, No. 11 seed, an 82-74 win over Oklahoma in the first round followed by an 82-60 loss to Florida in the second round
Wright State Raiders: 2007, No. 14 seed, an 79-58 loss to Pittsburgh in the first round
Youngstown State Penguins: N/A
- Jeff Goodman