For the second consecutive season, Bucknell will look to protect its regular-season title and get back to the NCAA tournament.
The Bison started the conference season 10-0, before losing two in a row and needing a strong finish to win the championship over Lehigh. Led by Mike Muscala in the post, Bucknell has a variety of scoring options both in the paint and on the perimeter. The Bison also control the defensive glass and like to force a slow tempo on their opponents. Moreover, they will get homecourt advantage due to winning the regular-season title. That came in handy last season, when Bucknell knocked off Lafayette in the title game.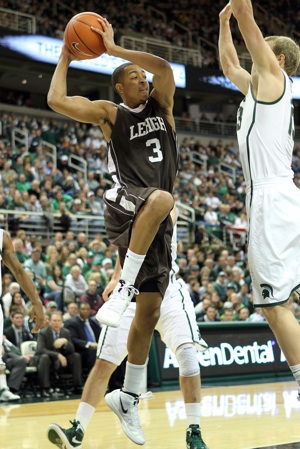 Lehigh has won nine of its last 10 games, including a road win at Bucknell two weeks ago. The Mountain Hawks have one of the best mid-major players in the country in C.J. McCollum, a prolific scorer who led the league in scoring, ranked third in rebounding and fifth in assists. He's capable of carrying the Mountain Hawks to the NCAA tournament -- like he did two years ago. Throw in Gabe Knutson on the inside, one of the more efficient players in the league, and Lehigh is a tough out.
American is one of the best 3-point shooting teams in the league and is difficult to beat when its shots are falling, but a team to watch could be Holy Cross. The Crusaders won six in a row to end the season, and have defeated Lehigh, Bucknell and American this season. Devin Brown and R.J. Evans form a good tandem, and the Crusaders really guard the perimeter.
TOURNAMENT BRACKET

Title game: Wednesday, March 7 on CBS Sports Network (7 p.m. ET)
BEST PLAYERS
C.J. McCollum, Lehigh
Mike Muscala, Bucknell
Charles Hinkle, American
Gabe Knutson, Lehigh
Devin Brown, Holy Cross
Conference RPI: 22
KenPom.com rating: 22
Sagarin rating: 23
NCAA Tournament Locks: None
NCAA Tournament Bubble Teams: None
Last NCAA Tournament Appearances
American Eagles: 2009, No. 14 seed, lost to Villanova 80-67 in the first round.
Army Black Knights: N/A.
Bucknell Bison: 2011, No. 14 seed, lost to Connecticut 81-52 in the first round.
Colgate Raiders: 1996, No. 16 seed, lost to Connecticut 68-59 in the first round.
Holy Cross Crusaders: 2007, No. 13 seed, lost to Southern Illinois 61-51 in the first round.
Lafayette Leopards: 2000, No. 15 seed, lost to Temple 73-47 in the first round.
Lehigh Mountain Hawks: 2010, No. 16 seed, lost to Kansas 90-74 in the first round.
Navy: 1998, No. 16 seed, lost to North Carolina 88-52 in the first round.
- Jeff Borzello