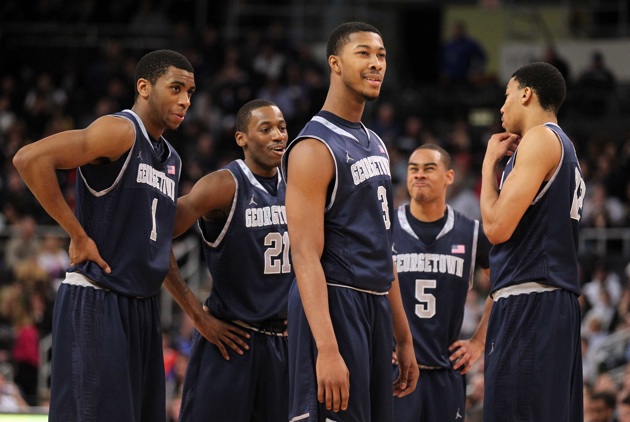 Georgetown will move closer to a double-bye in the Big East tourney with a win over Notre Dame. (US Presswire)
It's time to start the two-week sprint to Selection Sunday. Conference tournaments kick off today and there's a top-25 showdown, but it's a light slate overall.
Note: All times are Eastern, and the rankings are according to the AP poll.
Best game: No. 20 Notre Dame at No. 9 Georgetown (7 p.m., ESPN). The battle for double-byes in the Big East tournament is really heating up. Both Notre Dame and Georgetown are in the mix for two of those spots, but the Fighting Irish can essentially clinch a spot with a win tonight. They're coming off a loss at St. John's, snapping a nine-game winning streak. Georgetown continues to fly somewhat under the radar. The Hoyas guard the perimeter extremely well, and Notre Dame showed it struggles when not knocking down 3-pointers.
Second-best game: No. 4 Kansas at Oklahoma State (9 p.m., ESPN). The Jayhawks can clinch the outright Big 12 title – again – with a win over the Cowboys on Monday night. On the other side, Oklahoma State just wants to become NIT-eligible. Oklahoma State has beat some quality teams on its homecourt, mainly Missouri and Iowa State. Could the Jayhawks suffer the same fate? Barring a heroic effort from Keiton Page or Le'Bryan Nash, that's unlikely. Looks like eight straight titles for Kansas.
Another one to watch: Texas Tech at No. 13 Baylor (9 p.m., ESPNU). You know it's a mediocre schedule when this is the third-best game on the docket. So let's see what's on the line here. Baylor is only one game out of second-place in the conference, but it lost both games to Missouri so it might be difficult to pass the Tigers. The Bears are still in the mix for a No. 2 seed in the NCAA tournament. Texas Tech has one Big 12 win this season, but the Red Raiders have shown some fight lately. (I knew I could make the game sound interesting.)
Guaranteed win: Every season, Gonzaga has some random game to finish the regular season. Three years ago, the Bulldogs played South Carolina-Upstate, while they faced Cal State Bakersfield in the season finale the past two years ago. This season, it's Longwood (9 p.m., ROOT), whose three wins since January 16 have been over non-Division-I teams. Gonzaga should get a nice tuneup before the WCC tournament. Plus, it's Senior Night, so that's cool.
Potential upset: There's not much to choose from, but we'll go with Hampton over Bethune-Cookman on the road (7:30 p.m.). Bethune-Cookman was gunning for a league title a week ago, but has since lost two games and is now out of the running. Hampton has been up and down this season, but the Pirates play very good defense and have only lost one league game by double-digits this season.
Three things to keep an eye on:
As mentioned earlier, conference tournaments start tonight, with the Big South featuring two matchups: Radford at VMI (7 p.m.) and Gardner-Webb at High Point (7:30 p.m.).
Mississippi Valley State looks to improve to 17-0 in the SWAC with a road game at Jackson State (7 p.m., ESPNU).
The MEAC race is heating up, with all three title contenders in action tonight. First-place Savannah State hosts North Carolina A&T (8 p.m.), while 11-3 Norfolk State is at Florida A&M (7:30 p.m.) and 11-3 Delaware State welcomes Morgan State (7:30 p.m.).
More College Basketball coverage