Murray State has dominated the Ohio Valley discussion all season, rolling into February as the lone undefeated team in the country before dropping one to Tennessee State. How heavy of favorites are the Racers in the conference tournament?
Murray State is clearly the No. 1 team in the league heading into the tournament. The Racers lost just one game all season, to Tennessee State back on February 9. They bounced back to win their final five games, including three games and a home contest vs. Saint Mary's. Guard Isaiah Canaan is one of the best players in the country, while Donte Poole and a healthy Ivan Aska are quality secondary options. The way to beat Murray State is to get offensive rebounds and force turnovers.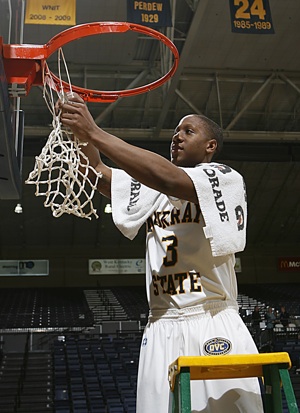 Tennessee State carried that Murray State win to a second-place finish, winning nine in a row before the season finale defeat at home to Murray State. Robert Covington is a dominant inside player, and the Tigers love getting easy opportunities from the free-throw line. They get a bye to the semifinals, along with Murray.
Outside of Murray, Tennessee Tech might have the most talent in the conference. The Golden Eagles have two of the league's best players in Kevin Murphy and Jud Dillard, who combined to average 38.6 points and 14.2 rebounds during the regular season. Throw in Zac Swansey and a couple of close losses to Murray, and they could be a sleeper. Don't overlook Jacksonville State, either. The Gamecocks have won eight of 11 and play tough defense.
TOURNAMENT BRACKET

Title game: Saturday, March 3 on ESPN2 (2 p.m., ET)
BEST PLAYERS
Isaiah Canaan, Murray State
Kevin Murphy, Tennessee Tech
Robert Covington, Tennessee State
Jud Dillard, Tennessee Tech
Donte Poole, Murray State
Conference RPI: 21
KenPom.com rating: 24
Sagarin rating: 22
NCAA Tournament Locks: Murray State
NCAA Tournament Bubble Teams: None
Last NCAA Tournament Appearances
Austin Peay Governors: 2008, No. 15 seed, lost to Texas 74-54 in the first round.
Eastern Kentucky Colonels: 2007, No. 16 seed, lost to North Carolina 86-65 in the first round.
Jacksonville State Gamecocks: N/A.
Morehead State Eagles: 2011, No. 13 seed, beat Louisville 62-61 in the first round, followed by a 65-48 loss to Richmond in the second round.
Murray State Racers: 2010, No. 13 seed, beat Vanderbilt 66-65 in the first round, followed by a 54-52 loss to Butler in the second round.
Southeast Missouri State Redhawks: 2000, No. 13 seed, lost to LSU 64-61 in the first round.
Tennessee State Tigers: 1994, No. 14 seed, lost to Kentucky 83-70 in the first round.
Tennessee Tech Golden Eagles: 1963, lost to Loyola-Chicago 111-42 in the first round.
- Jeff Borzello