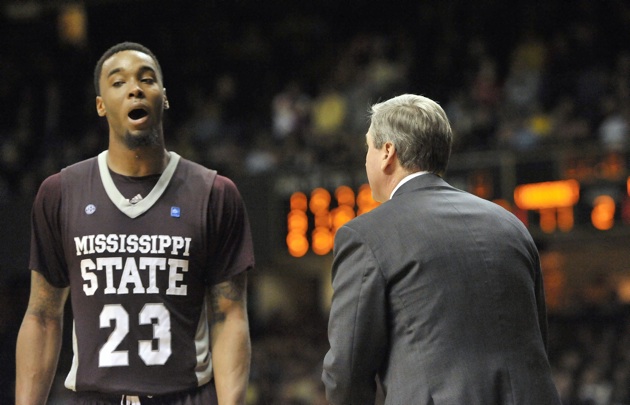 When asked if Mississippi State had what it takes to get a bid, Arnett Moultrie responded: "Probably not." (US Presswire)
Mississippi State has lost five games in a row, seeing its NCAA tournament hopes go from "pretty comfortable" to "on the outside looking in" in the matter of three weeks.
When the Bulldogs were supposed to pad their record against the bottom half of the conference, they dropped games to Georgia and Auburn and now sit tied for seventh place in the SEC. Even if they win the final two regular-season games, they need to do damage in the conference tournament to feel good about an at-large bid.
Instead of coming together for the stretch run, though, it seems Mississippi State has completely fallen apart as a team. Via beat writer Brad Locke from the Northeast Mississippi Daily Journal, it just seems the team is not optimistic going forward.
"It shouldn't have went this far," forward Arnett Moultrie said. "A five-game losing streak is unheard of in basketball at any level, especially when you have this talent."
What's the main reason for the struggles? According to Moultrie and senior guard Dee Bost, there's a lack of cohesion, chemistry and sense of team within the Bulldogs.
"I say what I say," said Bost, who is looked at as the team leader. "It might go in one ear and out the other. We're grown men."
From Locke:
Moultrie said everybody has their agenda. Says people aren't working hard enough to back up talk.
Despite the players recognizing the main problems facing the team, head coach Rick Stansbury insisted that the locker room has been fine during the losing streak. However, he did comment to Locke about the blame going around from one player to another.
"Now's not a time to point any fingers at each other," Stansbury said. "Now's the time you've got to stay together and you've got to fight together. You win together and you lose together."
Mississippi State has winnable games this week at South Carolina and at home against Arkansas. If the Bulldogs win those two, they would get back to .500 in the SEC and have some momentum heading into the conference tournament. With wins over Vanderbilt and Alabama, all hope is not lost for Mississippi State.
Moultrie doesn't share the same outlook. When asked if the team had what it took to get it together and make a run at an at-large bid, he wasn't optimistic.
"Maybe not. Probably not."
And that might be the most damning quote of them all.
Even Mississippi State's own players are writing them off.