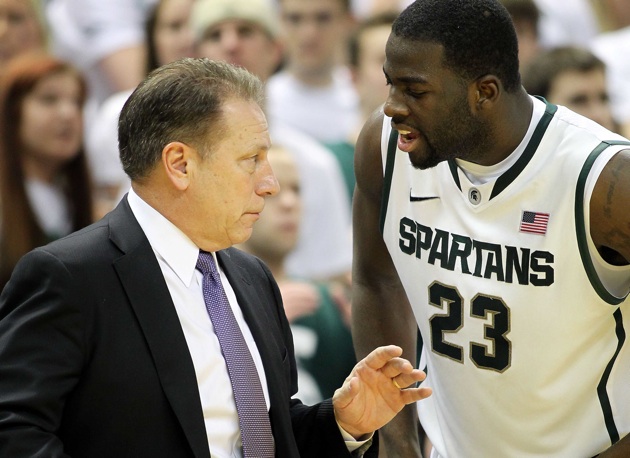 Michigan State can clinch the outright Big Ten regular-season title with a road win at Indiana. (US Presswire)
After a very weak slate on Monday, we have a far better schedule on Tuesday. There are bubble games, top-25 showdowns and more.
Note: All times are Eastern, and the rankings are according to the AP poll.
Best game: No. 5 Michigan State at No. 18 Indiana (7 p.m., ESPN). If Michigan State gets a win here, the Spartans will clinch the outright regular-season championship in the Big Ten. Tremendous job by Tom Izzo. On the other side, Indiana is still looking for a No. 4 seed in the NCAA tournament and a win here would certainly help. The battle between Indiana's offense and Michigan State's defense should be fun to watch. The Hoosiers are great from the perimeter, but the Spartans guard the arc very well. Who defends Draymond Green for Indiana?
Second-best game: No. 16 Florida at Vanderbilt (9 p.m., ESPN). Second-place is on the line in the SEC, in a rematch of Florida's 73-65 win back in early February. The Gators will clinch second if they win, while Vanderbilt will force a tie heading into the season finale. Both teams love to shoot the 3-pointer, and we'll certainly see a gunning match between Vandy's John Jenkins and Florida's Kenny Boynton and Erving Walker. Moreover, the inside players – Festuz Ezeli and Patric Young – could hold the key to each team's March success.
Another one to watch: Xavier at Saint Louis (9 p.m., CBS Sports Network). A monster bubble game in the Atlantic 10. Saint Louis had a very good profile – until it lost at Rhode Island over the weekend. The Billikens are still in the field, but things could get a little dicey if they lose on Tuesday. On the other side, Xavier really needs to win in order to get a bid. The Musketeers could conceivably finish second in the conference with a win here, which would look good on the Selection Sunday profile. Saint Louis won the first meeting between the two teams, at Xavier in late January.
Guaranteed win: There are a couple of games that should be confident picks. West Virginia hosts DePaul in an absolute desperate setting (7 p.m., ESPN3). The Mountaineers cannot afford another loss if they want to get an at-large bid, and we think they will come out and crush the Blue Demons. Also, even though No. 4 Duke hasn't been overwhelming lately, the Blue Devils need to win at Wake Forest (9 p.m., ESPNU) in order to keep a hold on a No. 1 seed.
Potential upset: Both Texas A&M and Providence have had some close calls lately, and Tuesday night could be the day they break through. The Aggies host Kansas State (7 p.m., ESPN2) in the final home game of what has been a tumultuous season filled with injuries, disappointments and Billy Kennedy being diagnosed with Parkinson's disease. It will be an emotional game. Also, Connecticut needs to beat Providence to continue to feel good about an at-large bid, but the Friars have been plucky at home in Big East play. They have the firepower to keep up with the Huskies (7 p.m., ESPN3).
Three things to keep an eye on:
The Big Sky regular-season championship is on the line as Weber State and Montana square off. Both teams are tied at 14-1 in the season heading into the finale (9 p.m., Altitude). The winner gets homecourt throughout the conference tournament.
The Horizon League tournament gets started on Tuesday night, with four first round games to tickle your fancy. The most intriguing? Let's go with Green Bay vs. Youngstown State (7:05 p.m.).
There are several former bubble teams in action tonight: Minnesota at No. 14 Wisconsin (8 p.m., Big Ten Network); Ole Miss at Arkansas (7 p.m., ESPNU); UCF at Memphis (9 p.m.); TCU at Wyoming (9:30 p.m., Mountain).
More College Basketball coverage