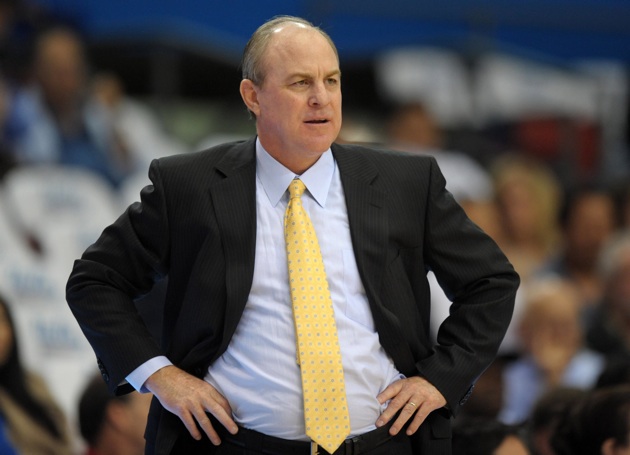 Under Ben Howland, the UCLA doctrines instilled under John Wooden have quickly deteriorated. (US Presswire)
Players taking drugs, teammates fighting each other, an elite head coach losing control of his program.
The tales detailed by Sports Ilustrated's George Dohrmann in his report on the fall of the UCLA program are eye-opening. With that said, we're not looking at an NCAA investigation in the works, and, in fact, the reaction by most people is a simple raised eyebrow or two and a lack of surprise at the behavior.
Dohrmann places most of the blame on the 2008 and 2009 recruiting classes, as well as the lack of control and discipline instilled by head coach Ben Howland. Once guys like Russell Westbrook, Jordan Farmer, Lorenzo Mata-Real, Josh Shipp and other players from the 2004 and 2005 recruiting classes left the program, the doctrines of "Wooden's Pyramid of Success" – the UCLA way – quickly deteriorated with the younger players.
There was widespread drinking and drug use among the players in Westwood, including one story of three players going to a rave on New Year's Eve – after specifically being asked not to go out – and using Ecstasy and partying until 5 a.m. Some of the players, according to Dorhmann, bragged about still feeling the effects of the drugs at practice the next morning.
Then there's Reeves Nelson, of course. The heavily-tattoed power forward from Modesto, Calif. was supposed to bring toughness and other Howland philosophies to the table. Instead, he brought nothing but chaos and instability to the program.
Some of the "highlights" of Nelson's tenure with the Bruins, as laid-out by Dohrmann:
Urinating on Tyler Honeycutt's clothes and flipping his bed over
Purposely pulling down on James Keefe's left arm, which had just been repaired by surgery, and injuring Alex Schrempf's back for several months with a hard foul
Berating Matt Carlino and calling him "concussion boy" to the point Carlino felt the need to transfer to BYU
Constantly talking back and yelling at assistant coaches
Fighting Mike Moser and Drew Gordon on multiple occasions
Howland clearly lost of control of his program with lack of discipline and involvement in the development of players. Dohrmann wrote that Howland doesn't have much contact with his team outside of games and practices, and constantly talks down to his assistants. Howland didn't punish Nelson for several of his actions and let him run amok until finally kicking him off the team on December 9.
It was only a few years ago that Howland steered UCLA to three consecutive Final Fours from 2006-2008. The Bruins have steadily gone downhill since then, missing the NCAA tournament in 2010 and likely sitting on the sideline for the Big Dance this year too.
While Dohrmann's piece does not magnify a NCAA scandal, it certainly shows the respect and luster for Howland – and UCLA – lessening with each passing year.