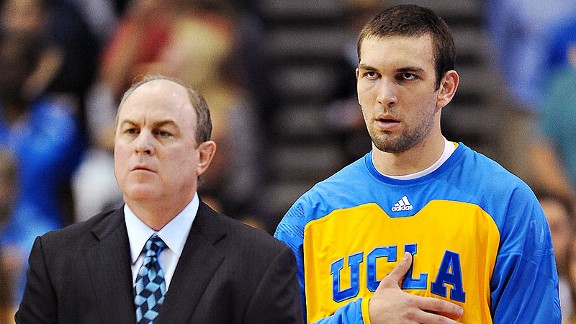 The photo that will define Reeves Nelson's college career. (AP)

By Matt Norlander
In immediate wake of
Sports Illustrated's
piece on Ben Howland, Reeves Nelson and the culture of no accountability at UCLA, the podcast addresses why it's, really, not surprising. Nelson is no longer on the team, UCLA has a big recruiting class coming in -- and you could likely find these sorts of problems at most places not winning consistently right now. Why it's bad: Ben Howland's reputation takes a hit and it's unclear whether he ever separates himself from the past few years of bad chemistry and bad basketball. Aside from UCLA, Jeff Goodman and Gary Parrish and I touch on ...
From the beginning: UCLA.
11:46: Aren't a lot of these problems mirrored at Mississippi State the past two seasons?
15:40: Jerry Palm, as of this podcast's posting, has UConn in the field as an 11 seed. Why? Because the profile still stacks up favorably to other fringe squad. But the Huskies aren't a tournament team and cannot be trusted.
19:36: Getting Draymond Green into the POY debate. Also, Goodman thinks it's "sad" one of these guys won't win it. What I forgot to bring up on the podcast: There are six POY awards, which is dumb, and so it's likely T-Rob/AD/Day-Day may split in some regard.
24:26: Ohio State now has problems and Parrish thinks reaching the Elite Eight is highly questionable.
28:28: Indiana away from home in the NCAAs -- will we see a different team?
29:59: The lower seeds we're expecting a lot out of come bracket time.
32:43: And out of nowhere, I'm raked over the coals for my final version of the Non-BCS Power Pyramid.
Again, I thank you for taking the time to listen to the podcast -- whenever you can. I ask that you, if you like what we're doing here, encourage like-minded hoopheads to subscribe in Tunes as well. Guests like Jay Bilas, Seth Davis, they're the guys who make me sound better and make the podcast worthwhile. The other guys? Gary Parrish and Jeff Goodman, they really make it entertaining, and of course you can count on our trio show each Wednesday. The RSS feed is another way to keep the podcasts coming to you ASAP. We've got a Zune download link as well.