There's no Stephen Curry in the league, but Davidson ran through the Southern Conference this season and remains the favorite heading into the conference tournament. Can the Wildcats end Wofford's two-year NCAA tournament streak?
Davidson went into Kansas and beat the Jayhawks on December 19 – and hasn't really looked back since. They started out 9-0 in league play, running away with the regular-season title by four games. Bob McKillop has a balanced squad with five double-figure scorers paced by De'Mon Brooks and Jake Cohen. They push the ball effectively and get to the free-throw line. There are multiple 3-point shooters as well as guys like Brooks and Cohen who can score inside.
Wofford had a three-game losing streak in early February, but has won its last four conference games to forge a second-place finish in the division. The Terriers slow things down and rely on Brad Loesing and Kevin Giltner to carry the load. Georgia Southern made a nice run late in the season before losing its final two games. The Eagles are one of the most inside-dependent teams in the league, with Eric Ferguson.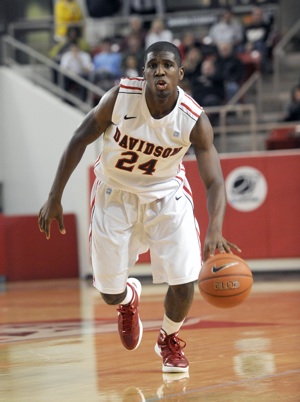 Player of the year De'Mon Brooks leads a balanced attack for top-seeded Davidson. (US Presswire)
We would also be remiss not to mention UNC-Greensboro, which completely turned things around upon the resignation of head coach Mike Dement. Wes Miller took over the program and steered the Spartans to a North Division title.
The sleeper heading into the conference tournament is perennial contender Charleston. The Cougars have won seven of their last nine games and have some of the most talent in the league. Antwaine Wiggins and Trent Wiedeman are all-conference-caliber players and Andrew Lawrence is a playmaker. This team is a threat.
Davidson looks like the favorite, but there are plenty of threats to the Wildcats' quest for an automatic bid.
Title game: Monday, March 5 on ESPN2 (9 p.m., ET)
BEST PLAYERS
De'Mon Brooks, Davidson
Brad Loesing, Wofford
Eric Ferguson, Georgia Southern
Trevis Simpson, UNC-Greensboro
Antwaine Wiggins, Charleston
Conference RPI: 23
KenPom.com rating: 23
Sagarin rating: 25
NCAA Tournament Locks: None
NCAA Tournament Bubble Teams: None
Last NCAA Tournament Appearances
Appalachian State Mountaineers: 2000, No. 14 seed, lost to Ohio State 87-61 in the first round.
Chattanooga Mocs: 2009, No. 16 seed, lost to Connecticut 103-47 in the first round.
The Citadel Bulldogs: N/A.
College of Charleston Cougars: 1999, No. 8 seed, lost to Tulsa 62-53 in the first round.
Davidson Wildcats: 2008, No. 10 seed, beat Gonzaga 82-76 in the first round, beat Georgetown 74-70 in second round, beat Wisconsin 73-56 in the Sweet 16, followed by a 59-57 loss to Kansas in the Elite Eight.
Elon Phoenix: N/A.
Furman Paladins: 1980, No. 10 seed, lost to Tennessee 80-69 in the first round.
Georgia Southern Eagles: 1992, No. 15 seed, lost to Oklahoma State 100-73 in the first round.
Samford Bulldogs: 2000, No. 13 seed, lost to Syracuse 79-65 in the first round.
UNC-Greensboro Spartans: 2001, No. 16 seed, lost to Stanford 89-60 in the first round.
Western Carolina Catamounts: 1981, No. 16 seed, lost to Purdue 73-71 in the first round.
Wofford Terriers: 2011, No. 14 seed, lost to Brigham Young 74-66 in the first round.
- Jeff Borzello