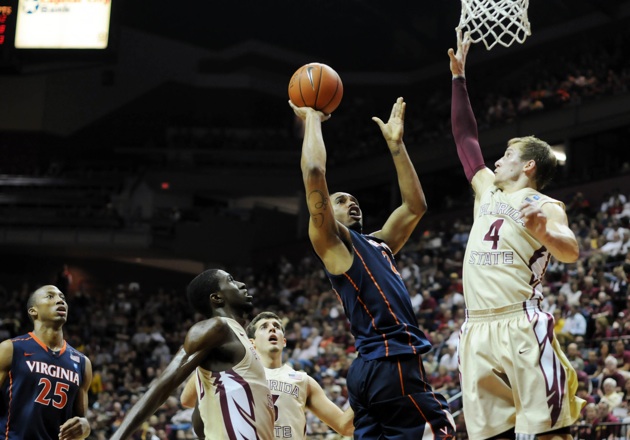 Florida State and Virginia battle in what should be one of the defensive matchups of the season. (US Presswire)
Thursday is a monster night for conference tournament action, with some of the most intriguing games taking place in the Big South. There's also some bubble implications on the line.
Note: All times are Eastern, and the rankings are according to the AP poll.
Best game: No. 22 Florida State at No. 24 Virginia (7 p.m., ESPN2). Neither team is peaking right now, but this should be a tremendous defensive battle. Florida State has dropped two in a row to fall out of the ACC title race, while Virginia has lost four of its last seven. The Cavaliers should win this one on Thursday night just to feel safe about its NCAA tournament hopes as well. Florida State relies heavily on blocked shots and controlling the paint, while Virginia contests shots and doesn't allow offensive rebounds.
Second-best game: No. 13 Michigan at Illinois (7 p.m., ESPN). Illinois was left for dead after its six-game losing streak, but the Fighting Illini finally got back on the right track with a win over Iowa. With win on Thursday night and then again on Sunday night at Wisconsin, and Illinois could get back in the mix. With that said, Illinois will have trouble stopping Michigan's 3-point shooting and also need to knock down shots. Can the Wolverines win on the road?
Another one to watch: Colorado at Oregon (10:30 p.m., FSN affiliates). This is essentially an at-large elimination game if either team has a legitimate shot at receiving a bid. Moreover, both teams are still in the mix for the No. 3 seed in the Pac-12 tournament. Colorado won the first meeting by one point on its homecourt, but Oregon is ahead in the at-large pecking order right now.
Guaranteed win: The only way No. 1 Kentucky really loses to Georgia on Thursday night (9 p.m., ESPN) is if it looks ahead to Florida on Sunday and completely forgets it's actually playing a game. Georgia has been OK lately, beating Mississippi State and Florida in its past five games, but the Wildcats aren't falling on Senior Night against the Bulldogs.
Potential upset: I'll start this section with this: I don't think this upset will actually happen. However, the top seed in the Big South, UNC-Asheville, will play No. 4 seed Charleston Southern (8 p.m., ESPNU) in a rematch of one of UNCA's two conference losses this season. Asheville had trouble keeping Southern off the glass in the first meeting, and Kelvin Martin has been dominant on the inside lately. This will be close.
Three things to keep an eye on:
Plenty of conference tournament action on Thursday night. The Atlantic Sun, Big South, Northeast, Ohio Valley, Missouri Valley, America East and West Coast are all in play. Some of the more interesting games include VMI vs. Winthrop (6 p.m., ESPNU), Central Connecticut State vs. Wagner (7 p.m.), and SEMO vs. Tennessee Tech (7 p.m.).
Mississippi Valley State goes for an 18-0 SWAC campaign against Arkansas-Pine Bluff (8:30 p.m.).
Some regular-season championship notes: Washington can clinch a share of the Pac-12 if it beats USC (10:30 p.m.), while Nevada gets the outright WAC title with a win over New Mexico State (11 p.m., ESPN2).
More College Basketball coverage