After not being selected to win the Sun Belt in the preseason, Middle Tennessee used a non-conference campaign with quality wins to pick up momentum and steam roll the league. The Blue Raiders did lose two of its last six games, though; could we see an upset?
Middle Tennessee beat UCLA, Belmont, Akron and Ole Miss prior to conference play starting, and didn't slow down from there. Kermit Davis' group started 10-0 in the Sun Belt, prior to stumbling in a couple games late. They might make a case for an at-large if they lose in the tournament, but the season finale loss at Western Kentucky really wrecks those chances. The Blue Raiders play excellent defense, contesting shots and forcing turnovers. Offensively, they get inside very effectively, leaning on Player of the Year LaRon Dendy.
Behind Middle Tennessee, there are two teams that were chasing for much of the season. Arkansas-Little Rock has won seven of its last nine, and was fairly consistent throughout league play. The Trojans get to the free-throw line effectively and also force turnovers.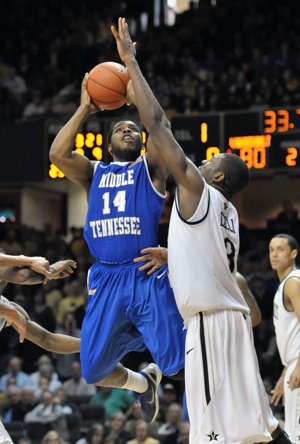 Middle Tennessee only lost two games during the league season, heading into the tourney as the favorite. (US Presswire)
Denver seems to be hitting its stride at the right time, winning its final four games of the season to get the three seed. The Pioneers are very efficient offensively, with plenty of shooters on the perimeter. Despite their slow pace, they force turnovers and really share the ball. Chris Udofia is dominant inside.
North Texas has been up-and-down for much of the season, but the Mean Green have the pieces to make a run in the conference tournament. Tony Mitchell is the most talented player in the conference, with the ability to rack up 20 points, 15 boards and five blocks every night out. The Mean Green also defend as well as any team in the conference.
****
Title game: Tuesday, March 6 on ESPN2 (6 p.m., ET)
BEST PLAYERS
Tony Mitchell, North Texas
LaRon Dendy, Middle Tennessee
Chris Udofia, Denver
Augustine Rubit, South Alabama
D'Andre Williams, Arkansas-Little Rock
Conference RPI: 19
KenPom.com rating: 19
Sagarin rating: 19
NCAA Tournament Locks: None
NCAA Tournament Bubble Teams: Middle Tennessee
Last NCAA Tournament Appearances
Arkansas-Little Rock Trojans: 2011, No. 16 seed, lost to UNC-Asheville 81-77 in the opening round.
Arkansas State Red Wolves: 1999, No. 15 seed, lost to Utah 80-58 in the first round.
Denver Pioneers: N/A.
Florida Atlantic Owls: 2002, No. 15 seed, lost to Alabama 86-78 in the first round.
Florida International Golden Panthers: 1995, No. 16 seed, lost to UCLA 92-56 in the first round.
Louisiana-Lafayette Ragin' Cajuns: 2005, No. 13 seed, lost to Louisville 68-62 in the first round.
Middle Tennessee Blue Raiders: 1989, No. 13 seed, beat Florida State 97-83 in the first round, followed by a 104-88 loss to Virginia in the second round.
North Texas Mean Green: 2010, No. 15 seed, lost to Kansas State 82-62 in the first round.
South Alabama Jaguars: 2008, No. 10 seed, lost to Butler 81-61 in the first round.
Troy Trojans: 2003, No. 14 seed, lost to Xavier 71-59 in the first round.
Western Kentucky Hilltoppers: 2009, No. 12 seed, beat Gonzaga 83-81 in the first round, followed by a 76-72 loss to Illinois in the second round.
- Jeff Borzello