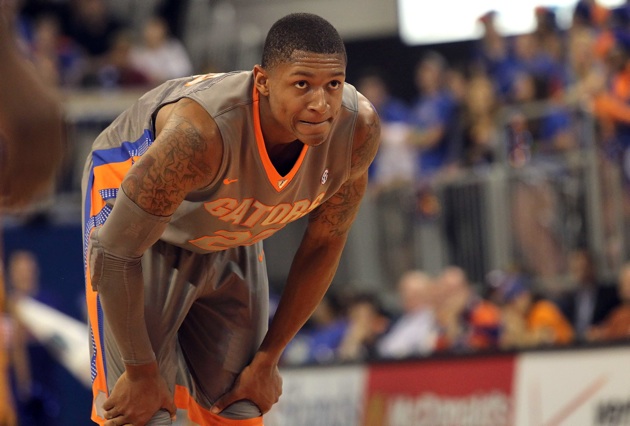 Brad Beal has stepped up his game as the season progressed, averaging 16.5 points and 7.6 boards in his last 10. (US Presswire)
This is the next-to-last Freshman rankings of the season, as next week marks the final stretch before the NCAA tournament. Right now, the No. 1 spot is locked up for Kentucky's Anthony Davis to take home. It would surprise me if anyone else even garners a vote for the Freshman of the Year award. There's still some decisions to be made for the all-freshman team, though. Michael Kidd-Gilchrist has seen his offensive drop off the last month, while Moe Harkless just got injured. Brad Beal is making a move, while Austin Rivers continues to get better. It looks like conference tournaments could decide some of the final dilemmas facing the Freshman of the Year rankings.
The Freshman of the Year rankings are released every Thursday afternoon, shortly after Jeff Goodman and Gary Parrish's Player of the Year rankings.
1. Anthony Davis, Kentucky (Last Week: 1): 14.3 ppg, 9.8 rpg, 4.8 bpg, 65.8 FG%
If there were any questions remaining about Davis, he answered them against Vanderbilt. He shot 10-of-11 from the field, finishing with 28 points, 11 boards and five blocks.
2. Cody Zeller, Indiana (Last Week: 2): 15.5 ppg, 6.4 rpg, 63.4 FG%
Going against Michigan State's physical frontline on Tuesday, Zeller went for 18 points on 7-of-12 shooting. If the Hoosiers are to advance in March, though, he needs to consistently rebound.
3. Trey Burke, Michigan (Last Week: 3): 14.2 ppg, 3.4 rpg, 4.8 apg
Burke didn't have a vintage effort against Purdue, struggling with his shot and turning it over four times. He's only shot 50 percent or better twice in the past 10 games.
4. Michael Kidd-Gilchrist, Kentucky (Last Week: 4): 12.0 ppg, 7.8 rpg
Kidd-Gilchrist slowed down late in the season, averaging just 8.9 points and shooting 40.6 percent from the field in the final eight games. He was still a factor on the glass and the defensive end, though.
5. Moe Harkless, St. John's (Last Week: 5): 15.2 ppg, 8.5 rpg
Harkless played just 22 minutes against Pittsburgh on Wednesday, finishing with four points. He injured his right ankle and looked limited once he came back into the game.
6. Brad Beal, Florida (Last Week: 7): 14.7 ppg, 6.5 rpg
Beal is playing his best basketball of the season in the last month, being far more aggressive offensively and also rebounding extremely well for his position. Five double-doubles this season.
7. Austin Rivers, Duke (Last Week: 8): 15.3 ppg, 3.3 rpg, 39.3 3PT%
Rivers is diversifying his game late in the season. He took 17 free throws against Virginia Tech, eight 3-pointers against Florida State and nine 2-pointers against Wake Forest.
8. Tony Mitchell, North Texas (Last Week: 6): 15.3 ppg, 10.8 rpg, 2.9 bpg, 58.1 FG%
Mitchell will have his chance to carry the Mean Green with the Sun Belt tourney beginning this weekend. He's slowed down offensively lately, averaging 9.7 points in his last three games.
9. Tony Wroten, Washington (Last Week: 9): 16.7 ppg, 4.9 rpg, 3.5 apg
When Wroten is doing what he does well – attacking the rim and making plays – he's at his best. Forcing shots is not. 21 points, six rebounds and five assists looks good, but it can't take him 18 shots.
10. D'Angelo Harrison, St. John's (Last Week: 10): 17.0 ppg, 3.7 rpg
Harrison set the St. John's freshman scoring record on Wednesday night, finishing with 21 points and four 3-pointers. If only he actually made his inside shots, we could see him average 25 a game.
Notes:
Once again, no one moved in or out of the rankings.
It's neck and neck with Harrison and B.J. Young of Arkansas for the No. 10 spot right now. Young is an efficient scorer who knocks down 3-pointers, and is averaging 20.3 points in his last seven games. This could come down to the wire. The other nine players are fairly secure in the top 10, although there's still potential for changs.
As you should know by now, I look for every reason to get a Delaware mention in here. Well, in his last five games, Jarvis Threatt is averaging 19.8 points and 4.6 boards.
LaDontae Henton totaled 42 points and 22 rebounds in two wins over DePaul and Connecticut.
Wonder if Tennessee's Jarnell Stokes is ready for a big finish to the season. He shot 9-of-10 with 18 points and seven rebounds in an overtime win against LSU on Wednesday.
Stanford's Chasson Randle is really hitting his stride offensively. He's had at least 16 points in five of his last six games, averaging 17.0 points in that span.
Matt Carlino will be a key heading forward for BYU. The Cougars need him to score, but taking 23 shots (Gonzaga) and 19 shots (San Francisco) isn't the trick.
Charleston Southern has one of the more underrated freshman duos, in guards Saah Nimley and Arlon Harper. They're combining to averaging 26.0 points.
Binghamton has only one win this season, but Ben Dickinson is averaging 15.3 points and 6.5 rebounds in his last four games.
Freshman leaders – Points: Kyle Vinales, Central Connecticut State (18.0); Rebounds: Tony Mitchell, North Texas (10.8); Assists: Dylan Garrity, Sacramento State (6.9)