It was Montana and Weber State neck-and-neck all season.
Then Wayne Tinkle's Grizzlies knocked off Weber State in the regular-season finale to give Montana its first outright league title since 1991-92. That means the league semis and title game will be in Missoula, Montana.
It also means Weber State star Damian Lillard will have his work cut of for him in order to play in the NCAA tourney.
Montana comes into the postseason tourney on a 12-game winning streak. The Griz returned four starters from last year's squad that came up short against Northern Colorado in the Big Sky championship game.
Weber State has the top player in the league in Lillard and also arguably the elite point guard in the nation, but Randy Rahe's team will have to likely get past a third-seeded Portland State team that is led by the duo of Charles Odum and Chehales Tapscott in the semis. That's no easy task.
I've got to admit, though. I'm rooting for a Montana-Weber State title game. The last time that happened it was a game to remember, when ex-Griz guard Anthony Johnson went for 42 points to knock off Weber in Ogden.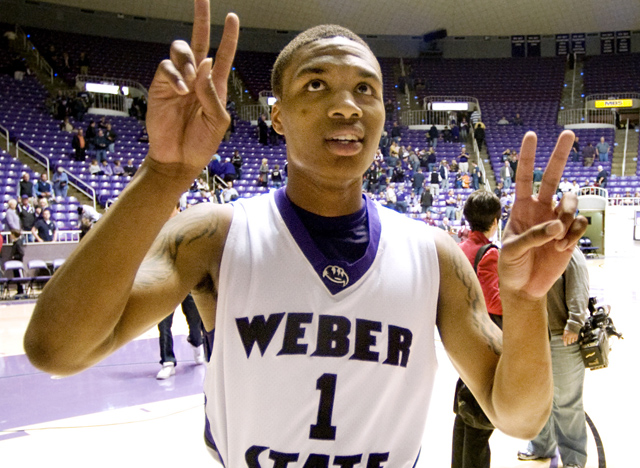 The NCAA tournament loves a player and star like Damian Lillard. But Montana could get in the way. (US Presswire)
****
Schedule: March 3-7
Title game: Wednesday, March 7 (7 p.m. MT on ESPN2)
BEST PLAYERS
Damian Lillard, Weber State
Charles Odum, Portland State
Will Cherry, Montana
Kareem Jamar, Montana
Chahales Tapscott, Portland State
Conference RPI: 25
KenPom.com rating: 27
Sagarin rating: 24
NCAA Tournament Locks: None
NCAA Tournament Bubble Teams: None
Last NCAA Tournament Appearances:
Eastern Washington: 2004, 15 seed (75-56 loss to Oklahoma State)
Idaho State: 1987, 16 seed (95-70 loss to UNLV)
Montana: 2010, 14 seed (62-57 loss to New Mexico)
Montana State: 1996, 13 seed (88-55 loss to Syracuse)
Northern Arizona: 2000, 15 seed (61-56 loss to St. John's)
Northern Colorado: 2011, 15 seed (68-50 loss to San Diego State)
Portland State: 2009, 13 seed (77-59 loss to Xavier)
Weber State: 2007, 15 seed (70-42 loss to UCLA)
- By Jeff Goodman