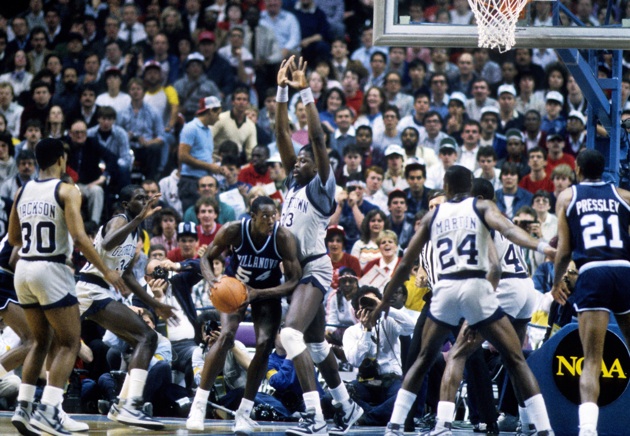 Patrick Ewing and Georgetown were dominant in 1985, but its loss to Villanova separates it from greatness. (US Presswire)
By Jeff Goodman
You can't be elite without a ring.
That was my take when putting together my list of the Top 16 teams in the history of college basketball.
There were some terrific teams that didn't cut down the nets. UNLV in 1991 immediately comes to mind. The defending national champs returned just about everyone and became the first school since Indiana State in 1979 to enter the NCAA without a blemish. But that group -- which was ultra-talented with Larry Johnson, Stacey Augmon, Greg Anthony and Anderson Hunt -- isn't worthy of a spot on the CBS16 because it couldn't get past Duke in the national semifinals.
Ditto for the 1975 Indiana team that was shocked by Kentucky in the regional title game. The Hoosiers went into that one at 31-0, but didn't have a healthy Scott May and couldn't get past the Wildcats.
Patrick Ewing's Georgetown team in 1985 was dominant. The Hoyas were the clear-cut favorites after winning the national title the previous year, but wound up being upset by eighth-seeded Villanova. How about the Phil Slamma Jamma Houston group in 1983 that had Clyde Drexler and Hakeem Ojajuwon, but lost to N.C. State in the national title game?
All phenomenal teams, but none belong in this exclusive club because winning the national title should be a prerequisite to being included on the CBS16.
We're talking about the best of the best -- and that means you've got to hang a banner in order to justify this honor. I don't care how talented the team was, or what they did in the regular-season. If you didn't perform when it mattered most, you just aren't worthy.
That's why John Wooden's UCLA teams in 1967, 1968 and 1973 all made the cut. They hung banners. Ditto for Indiana's 1976 squad, the last team to run the table.
I even went with Florida's team in 2007 over that UNLV team back in 1991.
It sounds nuts because the Runnin' Rebels had more talent and were superior in the regular-season, but what's ultimately meaningful is how they fared when it was all on the line.
The Gators won the national championship. UNLV, which stomped on opponents throughout the season, did not. The Runnin' Rebels lost to Duke, 79-77, in the Final Four.
Regular-season success certainly has its value, but let's face it: People remember who climbed the ladder and cut down the nets.
Those are the ones that belong on the CBS 16.

More:

-- Transcendence is key in being the best
-- The case against modern-era teams

-- Our ballots for the top 16 teams of all time

CBS Sports Network will be celebrating the 16 greatest college basketball teams of all time in the upcoming, four-part series, "16." Our CBS Sports panel of experts has voted, and on March 19 and 20, you'll be able to see which teams make up our list. You can help us celebrate your favorite team by sending us your tweets -- use the hashtag #CBS16 -- or leave your comments below. Then, look for your content as we'll work to incorporate the best submissions into the series.

You can also chime in on Facebook: Eye on College Basketball or CBSSports.com