We have our first true Cinderella story of March.
Western Kentucky, which was 5-14 at one point this season, ran through the Sun Belt Conference tournament as the No. 7 seed, beating the Nos. 10, 2, 3 and 5 seeds along the way. It was capped with a come-from-behind 74-70 win over North Texas in the championship game, led by big men George Fant and Teeng Akol combining for 40 points and 11 rebounds.
Head coach Ray Harper took over the program on January 6 after Ken McDonald was fired, going 4-7 over the next 11 games. On February 19, it was announced that Harper had his interim tag removed and therefore became the permanent head coach of the Hilltoppers. Since that announcement, Western Kentucky is 6-0.
Western Kentucky is a young team, starting three freshmen and two juniors. It's certainly not the same team that made back-to-back NCAA tournament in 2008 and 2009, winning three postseason games in two years. With that said, the Hilltoppers are miraculously dancing again.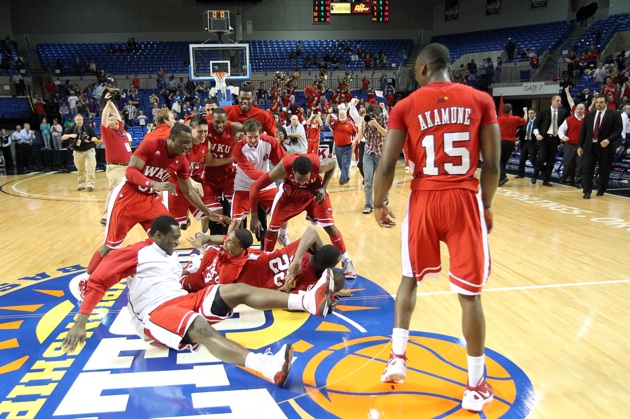 Western Kentucky won four games in four days to get into the NCAA tournament with a 15-18 record. (US Presswire)
Player to know: Derrick Gordon. Playing alongside Michael Kidd-Gilchrist, Dexter Strickland and Kyrie Irving at St. Patrick (N.J.), Gordon was often overshadowed. He has made sure that didn't happen in the Sun Belt, entering the league as a freshman and making an impact immediately. Gordon struggled in the semifinals and title game, but he had been on a tear in the previous stretch. The 6-foot-2 guard had 25 points and 15 boards in the upset of No. 2 seed Arkansas-Little Rock.
The Vitals:
Record: 15-18 overall, 7-9 in Sun Belt
Most recent tournament appearance: 2009, No. 12 seed, beat Illinois 76-72 in first round, lost to Gonzaga 83-81 in second round.
We're thinking: 16 seed (play-in game)
KenPom ranking: 197
Sagarin ranking: 206
RPI: 197
Best wins: Middle Tennessee, Denver
Worst losses: Troy (2), FIU, Furman
Notable stat: Western Kentucky gets to the free-throw line with exceptional effectiveness. The Hilltoppers took 118 foul shots in the Sun Belt tournament.
-- Jeff Borzello