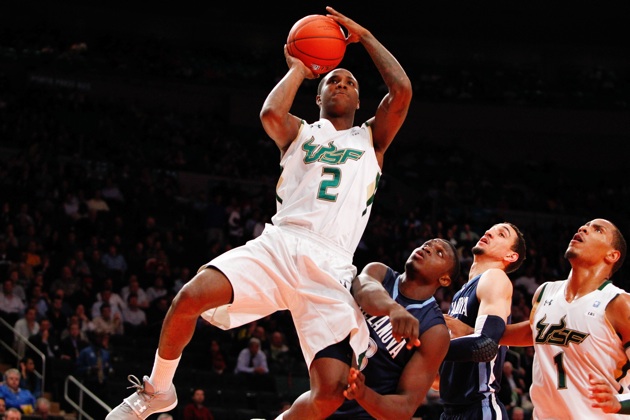 South Florida kept itself in the at-large discussion by winning ugly over Villanova. (US Presswire)
The bubble of the Big East has been discussed nonstop for the past several weeks, and the conference takes center stage on Wednesday. All four of the bubble teams are in action, with two of them facing off. Cincinnati is in good shape, especially with the double-bye, so it gets a reprieve until Thursday. It remains to be seen if anyone that loses today can survive on Selection Sunday; teams need to get to the quarterfinals.
Winners
Connecticut: Thank you, Shabazz Napier. The Huskies have essentially locked up a bid, by coming from behind and knocking off West Virginia in overtime. Now we don't need to really debate whether Connecticut is worthy of an at-large bid. The Huskies are 6-6 against the top-50, with 10 wins against the top 100. They needed to win three in a row at some point down the stretch, and they finally reached that achievement. Connecticut is now 7-8 away from home, so the negatives on the resumes are becoming limited. No matter what happens against Syracuse on Thursday, Connecticut will hear its name on Selection Sunday.

South Florida: It wasn't pretty -- or even remotely attractive -- but the Bulls came out with a win over Villanova in the second round of the Big East tournament. Will that be enough to get an at-large bid? South Florida went 12-6 in conference play, and has a pretty solid computer profile. Avoiding a bad loss to Villanova was important, as it gives them something to separate from Seton Hall and West Virginia. The Bulls are only 1-9 against the top 50, with the lone victory coming at Louisville a week ago. They did go 5-0 against teams 50-100, but there's also three sub-100 losses. In the quarterfinals, South Florida will be pitted against Notre Dame. If the Bulls can knock off the Fighting Irish, there will be no need to sweat on Selection Sunday. A loss there, and the lack of quality wins could catch up to them.
Losers
West Virginia: Heading into the Connecticut vs. West Virginia matchup, the stakes were pretty clear: the winner is a lock heading into Selection Sunday, and the loser will sweat it out. Well, the Mountaineers blew a late lead and couldn't execute in overtime en route to a 71-67 defeat. West Virginia moves to 4-8 in its last 12 games, and although that's not a criterion anymore, it doesn't bode well. The Mountaineers have a solid computer profile, but they are just 4-8 against the top 50 (and one of those wins, Oral Roberts, is on the cutline). They have nine top-100 wins and are 4-2 on neutral courts. What could help them is the bubble wins; West Virginia has defeated Miami, Cincinnati, South Florida and Oral Roberts. The best wins are Georgetown and Kansas State, but they also have two sub-100 losses. It will be a close call, but we have West Virginia in as of today.

Seton Hall: The Pirates will have a long next four days to wait until Selection Sunday, after losing to Louisville in the second round of the Big East tournament. Seton Hall now has losses in three of its last four games, and four of its last games. The two games that the Pirates may end up regretting if they get left out could be the season-ending losses to Rutgers and DePaul. Had they won those two, Seton Hall would have been a lock heading into the Big East tournament. Now, the Pirates are in trouble. The computer profile is not very impressive, and the non-conference strength of schedule is fairly high. The Pirates are 4-8 against the top 50, with wins over Georgetown and Connecticut. They have also defeated fellow bubblers West Virginia, Dayton and Saint Joseph's, which could help. The three sub-100 losses and 5-10 record to finish the season could cost them, though.