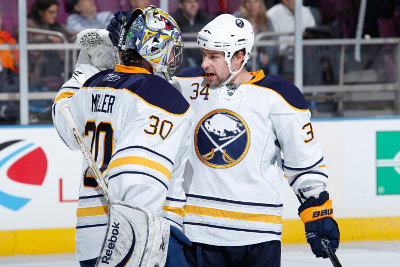 Buffalo Sabres (30-25-7) at Carolina Hurricanes (30-25-9)
RBC Center, 7 pm ET
Buffalo:
9th in East, 67 points (5-3-2 in last 10 games)
Carolina:
8th in East, 69 points (4-4-2 in last 10 games)
Season series:
Buffalo def. Carolina, 3-2, in first meeting on Jan 13.
BREAKDOWN:
A Buffalo Sabres win puts them in eighth place in the Eastern Conference, at least for one night. (Buffalo would get the edge in the standings since it has two games in hand.
Click here
for our rundown of the playoff chase, along with the league's tiebreaking procedures.) Sabres goalie
Ryan Miller
probably hasn't been this much on his game since he led Team USA to silver at the 2010 Winter Games. He hasn't allowed more than two goals in regulation over his last five starts, including Tuesday's 3-2 victory over the New York
Rangers
. Without him, the Sabres, who were in 12th place and 10 points out of playoff spot at the end of December, wouldn't be here.
Carolina has some room to advance up the standings as well. A victory and a Rangers loss would put them into seventh place.
Cory Stillman
has two goals and an assist in his return to the Carolina via trade with the Florida Panther on Feb. 24. Goalie
Cam Ward
is expected to make his 24th consecutive start.
Jeff Skinner
, one of the contenders for the Calder Trophy, hasn't scored a goal over the last five games, although he still leads all rookies in points (47).