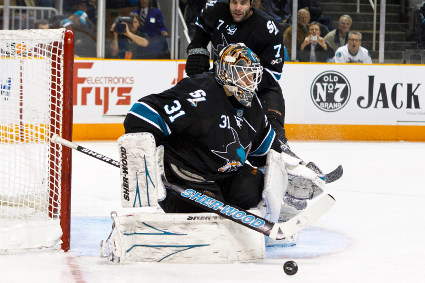 The San Jose
Sharks
, winners of the Western Conference the last two seasons, didn't look like they'd contend for much more than a low playoff seed, if that, just a few weeks back.
Then
Antti Niemi
, the goalie the Sharks acquired from the Stanley Cup champ Chicago
Blackhawks
last offseason, took over. The Sharks have won 17 of the last 20 games -- all with Niemi in net -- including Thursday's 3-1 victory over Detroit
Red Wings
at HP Pavilion. Niemi (above) made 26 saves in his latest win.
The Sharks have won eight in a row, are tops in the Pacific Division and now sit three points behind the Red Wings in the Western Conference. (Here's a look at
our playoff tracker
.)
The Sharks have integrated defensemen
Ben Eager
(acquired in from the Atlanta in January) and
Ian White
(acquired from Carolina last month) and are relatively healthy, minus defenseman
Dan Boyle
(upper-body injury) and goalie
Antero Niittymaki
(groin). Both are expected to return soon. The taht has a solid stable of forwards -- including
Dany Heatley
, who had a two-goal effort on Thursday -- and a capable defense.
For a team that was a trendy pick for the few seasons to win it all, could this be the season where the Sharks advance to the Stanley Cup Final for the first time in franchise history? Maybe even win it all?
Or, are the Sharks just teasing us again?
A PLEA IN PHOENIX:
After about two years, the Phoenix
Coyotes
ownership saga could be coming to an end. That's if a citizen watchdog group drops it objections over how the City of Glendale is helping finance the transaction via a sale to of $116 million in bonds.
FOXSportsArizona.com's Matt Swartz reports
the Glendale Mayor Elaine Scruggs and Greater Phoenix Economic Council leader Barry Broome spoke at a news conference on Thursday where they urged the Goldwater Institute not to follow through their threat of a lawsuit, which could prevent investor Matthew Hulsizer from taking over the team. Hulsizer said he intends to keep the team at Jobing.com Arena, although any more delays ups the chances that the league-controlled franchise that once called Winnipeg home could be headed back north of the border.
GILLIES HEARING TODAY:
New York
Islanders
enforcer
Trevor Gillies
is scheduled to meet with NHL officials in Toronto this afternoon to discuss Wednesday's blindside hit of
Cal Clutterbuck
of the Minnesota
Wild
. (Link to hit
here
.)
TSN.ca reports
that such in-person meetings usually mean a suspension of five or more games is on the horizon. Gillies had just returned from a nine-game suspension for a blow to the head delivered to Pittsburgh's
Eric Tangradi
on Feb. 11. Because of that, Gillies will be treated as a repeat offender.
LINE CHANGES:
Jason Arnott
has acclimated himself pretty well in Washington. His slapshot late in the third period led the
Capitals
past the visiting St. Louis
Blues
, 3-2. That makes it one game-winning goal and a primary assist on a game-tying tally in Tuesday's victory over the Islanders since he arrived from New Jersey. . . . Philadelphia forward
Kris Versteeg
scored twice against his former club, but the Maples Leafs rookie goalie
James Reimer
made a key glove save in the closing seconds to preserve a 3-2 victory. The Leafs, who dealt Versteeg before the deadline for a first-and third-round picks, moved two within three points of eighth place in the East. . . . The Buffalo Sabers, unable to score on a power play late in regulation, failed in thier bid to move into eighth place in the East, as Carolina won, 3-2, in OT.
Photo: US Presswire