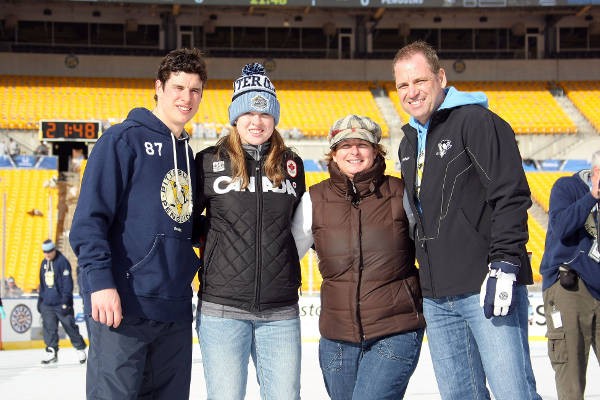 Taylor Crosby, the sister of Pittsburgh
Penguins
star center Sidney Crosby, recently suffered the same injury that has kept her big brother sidelined for more than two months.
The Toronto Star
reports that 14-year-old Taylor, a goalie, was injured two weeks ago during a practice for her under-16 team at Shattuck-St. Mary's, a prep school in Minnesota. Taylor -- shown above with Sidney, mother, Trina, and father, Troy -- has since returned to the ice.
Dr. Charles Tator, a leading expert on brain injuries in Canada, said having multiple family members suffer concussions isn't uncommon, pointing to the Lindros brothers as one example.
"I know several families that have all had concussions," said Tator. "We do wonder whether some families have a special susceptibility to concussion. But there's no proof for this."

Twelve NHL players were listed as injured with concussions on Monday and three more with "head injuries" and one with "dizziness," according to
The Toronto Star
. A Pittsburgh Penguins spokesperson told the newspaper there has been no change in Sidney Crosby's status.
The topic of concussions will be a key issue discussed at next week's GM meetings in Florida,
accordng to USA TODAY
.
HOLTBY BAILS OUT CAPS:
As
Michal Neuvirth
was forced out
after a period when a piece of metal got lodged in his eye
,
Braden Holtby
was put between the pipes for the Washington Caps on Monday.
No pressure. Holtby -- who had gone nearly six weeks between NHL starts -- responded with a 21-save performance, not counting his three stops in the shootout as the Caps earned a 2-1 victory over the Tampa Bay
Lightning
.
The Washington Post's Katie Carrera
reports that Holtby's saves just as he entered the game set the tone.
"Right off the bat he comes in and there's a power play," Coach Bruce Boudreau said of Holtby. "I think he has three great chances. [Simone] Gagne had a fabulous chance and when he saved that you knew he was going to be on."
Boudreau said after the game that it took some time to get the small sliver of metal -- which flew into his eye on a shot by Tampa Bay forward
Nate Thompson
in the first minute of the game -- out of his eye, but added Neuvirth would be fine.
Caps center
Nicklas Backstrom
, who has been playing through a broken thumb, fell on his injured hand and missed the third period. Like Neuvirth, Boudreau said Backstrom should be OK.
PHILLY DOESN'T HAVE IT EASY:
The Philadelphia
Flyers
, losers of four in a row, seem to have the right team coming to town to end their slump.
But maybe not.
Sure, the Edmonton
Oilers
are a point away from being the worst team in the league. But they do enter Tueday's contest against the East's top team 7-3-1 7-3-0 in their last 10 games.
The Flyers are still suffering through a bout of the flu that has ravaged the locker room.
CSNPhilly.com' s Tim Panaccio reports
the Flyers coach Peter Laviolette isn't using illness as an excuse, but it's not a bad explanation for Sunday's 7-0 loss to the New York
Rangers
.
"If everyone is honest here and look at the [loss] as an isolated game, we had no gas," Laviolette said during a conference call. "We had no energy. To bring them in again, the mental part of it and physical part, I just didn't see any good it was going to do."
The Oilers aren't exactly healthy either. Talor Hall, the first overall pick in last summer's draft, is out for the season with an injured ankle suffered in a fight last week and
Ales Hemsky
is out at least a few more days with a shoulder injury.
And then their GM was also nearly put in the injured reserve.
The Edmonton Journal's Jim Matheson reports
that Steve Tambellini was hit in the head by a piece of Plexiglas as he stood near the bench during practice on Monday.
He wasn't cut, but he took a wallop to his noggin and definitely was shaken up.

"That's the hardest I've been hit in a long while," said the former NHL center.
MONDAY'S RESULTS
Washington 2, Tampa Bay 1 (SO)
St. Louis 5, Columbus Blue 4 (SO)
Dallas 4, Los Angeles 3 (OT)
CBSSports.com playoff race tracker
Photo: Getty Images