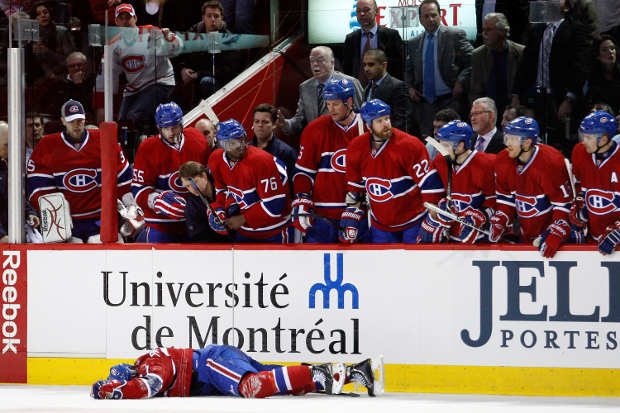 Montreal
Canadiens
coach Jacque Martin all but called for the suspension of Boston
Bruins
defenseman
Zdeno Chara
, who minutes earlier Tuesday sent young Habs forward
Max Pacioretty
to the hospital for at least an overnight stay.
"The league has to deal with those issues," Martin told reporters after his team's
4-1 victory
over the Burins at Bell Center, a game marred by the scary collision. "It's not the first time. It seems to be getting worse. The league has to take some responsibility."
As frightening as Pacioretty's headfirst collision with the so-called turnbuckle, word came out later that he was able to move all his extremities and was conscious. His agent, Alec Schall,
sent a message via Twitter
that Pacioretty "is going to be OK."
There's no telling how long the 22-year-old from Connecticut will be out of action, but debate raged into the morning on how long Chara should sit -- if at all.
Chara said the hit that sent Pacioretty into the divider between the benches was the result of a few unfortunate events. Here's a link to
video of the incident along with more details
.
"We were racing for the puck and battling for position," Chara
told reporters after the game
. "I was riding him out and it was very unfortunate that at the same time I pushed him, he kind of leaned and jumped up a little bit and hit the glass extension."
Boston Bruins coach Claude Julien said Chara is not a dirty player, something that's not really in dispute. But there are a few things working against Chara: his scuffle with Pacioretty the last time these two rivals met, the score (it was 4-0 when Pacioretty went down in the final minute of the second period), the fact the puck was already well up ice when he finished the check and the recent scrutiny of head injuries.
TSN's Bob McKenzie wrote
that it's hardly an easy decision for the league's disciplinarians, who could be minus VP Colin Campbell's voice since his son, Gregory, plays for Boston.
Personally, I didn't see or sense any malice or obvious intent to injure on the play but one would have to be a mind reader to know for certain what exactly Chara was thinking at that moment. Who knows, really?
Chara was given an interference penalty and a game misconduct becaues Pacioretty was injured on the play. Since the Bruins don't play again until Thursday, the league has a little bit of time to figure out if any more punishment is needed.
BETTMAN TAKES A STAND:
NHL Commissioner Gary Bettman hasn't given up in hockey in Arizona, even if it appears to be the easiest path once again.
The Goldwater Institute, a public policy group, who is seeking legal action to stop the City of Glendale's $100 million bond sale that would clear way for Chicago investor Matthew Hulsizer to take over the Phoenix
Coyotes
.
The Arizona Republic
reported the latest Tuesday:
"It's time for Goldwater to stand down," he said. "In light of their conduct in this matter, I question whether this is really an organization concerned with the public interest."

Bettman affirmed the league continues to support the city's deal with team buyer Matthew Hulsizer.

"Our commitment remains as strong as ever," he said. "But time is running out."
The Vancouver Sun's Cam Cole
said the NHL is going to let Glendale to explore every option before the franchise is allowed back into Canada.
If it were put to a vote of the NHL player membership at large, rest assured the league would be back to three Canadian cities, not thinking about adding a seventh in one of the coldest, windiest parts of the land — and Phoenix would be granted exempt status as a destination of choice, unto eternity, regardless of viability as a hockey market.
FORMER NHLERS VISIT TROOPS:
NHL Hall of Famer Lanny McDonald, former NHL goaltender Mark LaForest and retired forward Pierre Turgeon were in a group of former players who visited Afghanistan on Tuesday.
They met some of the 2,800 Canadians serving in Afghanistan and even played in a pickup ball hockey game, which was dubbed "Hockey Morning in Kandahar."
"Everyone's thankful that we're here, but I've got to be honest with you, it's just a privilege for us to be here," Turgeon told The Canadian Press.
Comedian Tom Green was the celebrity component of this of the trip, so we're guessing
fellow Canadian Bryan Adams
was on tour.
TUESDAY'S RESULTS
Philadelphia 4, Edmonton 1
NY
Islanders
4 Toronto 3 (OT)
Ottawa 2, New Jersey 1
Pittsburgh, 3 Buffalo 1
Montreal 4, Boston 1
Florida
3, Chicago 2
Minnesota5, Colorado 2
Vancouver 4, Phoenix 3 (OT)
San Jose 3, Nashville 2 (OT)
Photo: Getty Images