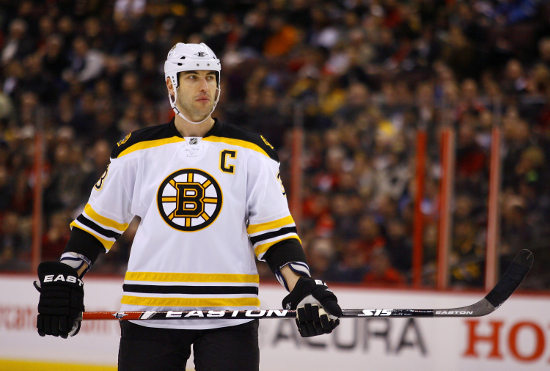 Buffalo Sabres (32-26-8) at Boston Bruins (38-20-10)
TD Garden, 7 pm ET
SEASON SERIES:
Buffalo 3-1-1; Boston 2-2-1
IMPLICATIONS:
The Sabres could move up a spot to seventh, displacing the idle New York
Rangers
. (Both would have 74 points, but Buffalo gets the edge with two games in hand after tonight.) The Bruins could advance to second place in the East with a victory. (Boston and idle Washington would each have 86 points, but the Bruins would have a game in hand.) Here's a look at
our plaoff tracker
.
BREAKDOWN:
Despite all the outcry, Bruins defenseman
Zdeno Chara
will indeed be in the lineup tonight. He told
CSN New England's Joe Haggerty
that he was "relieved" that he would not sit for his check Tuesday night that seriously injured Montreal's
Max Pacioretty
.
"I'm satisfied and happy about it. Relieved," Chara said. "They looked at it and made a decision, and I respect that."
While Pacioretty's injury understandably took the spotlight off the scoreboard, the Bruins 4-1 loss was a rare hiccup of late. Still, the Bruins enter 7-1-1 in their last nine games.
Buffalo is 3-1-1 through the first six games of its seven-game, 12-day trip. The Sabres will get winger
Thomas Vanek
back in the lineup tonight after he missed Tuesday's game with flu-like symptoms.
MATCHUP TO WATCH:
Buffalo goalie
Ryan Miller
vs. Boston goalie
Tim Thomas
. These two former teammates from the Team USA's silver-medal run at last year's Winter Olympics are both on their game. Thomas, who may have been injured in practice and sat out Tuesday's game in Montreal, is 14-4-4 in his last 22 games and hasn't been beaten in regulation over this last four starts. Miller made 28 saves in a 3-1 loss to Pittsburgh on Tuesday, his first start since getting a rare night off last weekend.
KEY STAT:
6. Among the Sabres' final 16 games, that's how many teams are currenlty in the playoff picture.
Photo: Getty Images