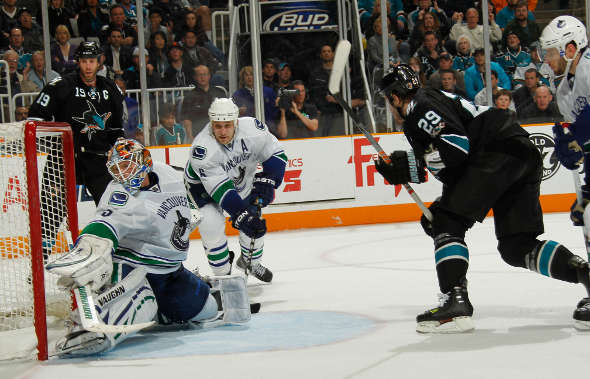 An overtime with only four skaters per side, the shootout and the date were the only elements that ruined the illusion Thursday's Vancouver
Canucks
-San Jose
Sharks
tilt wasn't a playoff game.
The Sharks, who trailed by two goals early, tied the game on three occasions -- the last with 20.3 seconds left as
Ryane Clowe
's one-timer beat
Cory Schneider
as his counterpart,
Antti Niemi
, sat in favor of the extra attacker. (It was actually 6-on-4 since the Sharks were on the power play.) The Canucks won the game, 5-4, as Schneider was perfect in the shootout and Vancouver's
Alex Burrows
scored the only goal.
For two teams who could meet in the postseason for the first time, it didn't get much better for the second week of March.
"It really was (a playoff vibe)," Sharks captain
Joe Thornton
told reporters after the game. "These are two really good teams. We're on our end still fighting for our playoff lives, so we need to get as many points as we can. The atmosphere was great and it was an exciting game to be a part of."
The Pacific Division-leading Sharks pulled within a point of Detroit
Red Wings
, who sit second in the Western Conference. Still, the Sharks are also seven points away from falling to ninth place and out of playoff picture.
Vancouver, meanwhile, has won four in a row and remains seven points ahead of Philadelphia in the race for the Presidents' Trophy.
Schneider again showed he's not a bad second option as starter Robert Luongo rested. He made 44 saves, probably none better than when Clowe directed a crossing pass that Schneider somehow got his right pad on early in OT. It was one of his nine saves in the extra frame as the Canucks, who have the second-best best penalty kill in the NHL, snuffed out a
Ryan Kesler
high-sticking penalty.
"Tonight you could say they were the better team on the ice," Canucks coach Alain Vigneault told
The Associated Press
. "But at the end of the night, our goaltender kept us in the game and we found a way to win."
THORNTON, SEDIN WEIGH IN:
Thornton may have a little ax to grind when it comes to the team he traded him.
Henrik Sedin
, the usually soft-spoken Vancouver Canucks captain, doesn't wade into controversies often.
But before Thursday game, each came to the same conclusion: The NHL got it wrong by not suspending Boston
Bruins
defenseman
Zdeno Chara
for his check that led to the scary injuries to Montreal's Max Pacioretty. Here are Thornton's comments via
The Vancouver Sun
.
"It's just something with Boston; it seems like they have a horse shoe," Thornton said. "There's just something about Boston and the disciplinary (decisions) are on their side. I'm not sure why that is or anything. I'm not assuming that Colin's kid being on the team, that's why."
That was Thornton's not-so-subtle jab at league disciplinarian Colin Campbell, whose son, Gregory, plays for the Bruins. It was his second in command, Mike Murphy, who made the call not to fine or suspend Chara as Campbell recused himself.
Thornton's comments weren't exactly a hit in Boston.
"Win a big game when it counts," Boston TV analyst Mike Milbury retorted.
Sedin, however, backed up Thornton's sentiments and said the fact that Chara isn't considered a dirty play should not have entered into Murphy's decision like it did.
"Exactly," Sedin said. "What are you doing to do the next time Trevor Gillies comes down and runs a guy into the thing? You can't give him anything. And you tell the guys (Chara) has no history, so the next time he does it he still has no history because he didn't get suspended. I don't see the reasoning behind it. Give him at least something to show that's not acceptable."
THURSDAY'S RESULTS
Buffalo 4, Boston 3 (OT)
Philadelphia 3, Toronto 2
Ottawa 2, Florida 1
Nashville 4, Minnesota 0
St. Louis 4, Montreal 1
Phoenix 3, Calgary 0
Vancouver 5, San Jose 4 (SO)
CBSSports.com playoff tracker
Photo: Getty Images