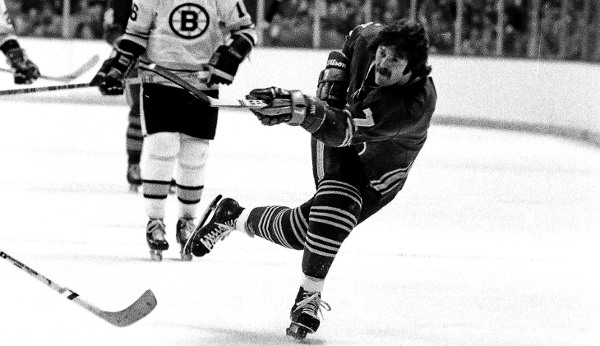 Rick Martin, a member of the Buffalo
Sabres
' legendary French Connection line, died Sunday after apparently losing consciousness behind the wheel of his car. He was 59.
"We lost a heck of a guy today," Sabres coach and Martin's former teammate Lindy Ruff said. "It's tough when you lose anybody, and we lost a real good person today. It's a tough one to take."
The Sabres announced Monday that a public memorial service will be held at HSBC Arena on March 24.
Martin was driving in suburban Buffalo when his 2001 Buick Lacrosse sedan crossed the center line and eventually came to rest against a tree. Two passers-by and later a state trooper performed CPR on Martin as his German shepherd, the only other occupant of the car, stood alongside, New York State Police Capt. Steven Nigrelli said.
On Monday, authorities said an autopsy revealed Martin died of hypertensive heart disease, which is related to high blood pressure and clogged arteries.
News of Martin's death spread as the Sabres were set to play the Ottawa
Senators
at HSBC Arena, where just a few weeks ago he joined his linemates French Connection linemates -- Rene Robert and Gilbert Perrault -- as the Sabres' new owner, Terry Pegula, was introduced. A video tribute of Martin ran before the game.
"It was great sadness and a heavy heart that we lost a member of the Sabre family today," longtime team broadcaster Rick Jeanneret said, as pictures of Martin were shown. "Rick Martin was a person of joy. You'll be missed `Rico,' but you will be remembered."
Martin was drafted fifth overall by Buffalo in 1971 and scored 41 goals during the 1971-72 season, a rookie record at the time. He spent 10-plus seasons in Buffalo before a severe knee injury against the Washington
Capitals
in November 1980 cut short his career. He was traded to the Los Angeles
Kings
, but would only play in four games with the club before retiring.
Martin, a two-time 50-goal scorer, finished with 701 points (384 goals and 317 assists) in 685 career NHL games. He also had 24 goals and 29 assists for 53 points in 63 career playoff games. His 382 goals while with the Sabres ranks as the most by any Buffalo left winger. He also is tops in Sabres history in three-goal game (21), second in game-winning goals (77) and third in points (695).
"He certainly made a lot of us laugh, didn't he?" said former defenseman Mike Robitaille, who played three years with Martin in Buffalo. "I don't know what we're doing being so emotional when what he stands for is to have fun and laugh. Man, we should have the biggest party in the world for Richard. ... A lot of good memories."
-- A.J. Perez
The Associated Press contributed to this report.
Photo: Getty Images