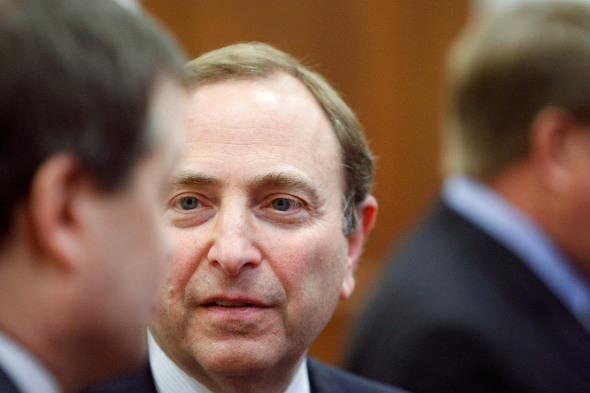 NHL commissioner Gary Bettman introduced a five-step plan to reduce concussions on the first day of the league's general managers meetings on Monday.
"There's no one single thing that is causing concussions," Bettman said. "In fact, the trend as to why concussions happen is different than a lot of people are suggesting or speculating."
Here's the proposal Bettman laid out in Boca Raton, Fla., to stem the league's vexing concussion problem:
Brendan Shanahan, the former NHL player who now serves as NHL vice-president of hockey and business development, will work with manufacturers to improve equipment. One thought, Bettman said, is to make player equipment smaller.
The NHL, the first major North American sports with a concussion protocol, will revise its guidelines. If a player is thought to have a concussion, he must be removed from the bench and put in a quiet area where he'll be assessed by a doctor, not just an athletic trainer. He will then be required to undergo the most recent Sport Concussion Assessment Tool. Here's a look at the SCAT2 protocol.
Coaches and the team will be penalized for players deemed to repeat offenders to rules that prohibit hits to the head. Call it the Trevor Gillies Rule. This will have to be approved by the Board of Governors, so it won't be in place until next season.
Safety engineers will conduct an inspection of each of the league's 30 rinks to make sure they conform to new safety standards. This comes days after some experts pointed to the lack of sufficient padding on the divider Montreal's Max Pacioretty collided with after a check form Boston's Zdeno Chara. The league will look at banning seamless glass currently in use at six rinks.
The league will assemble a "blue ribbon panel" to continue studying concussions. The panel will include former NHL defenseman Rob Blake, Tampa Bay Lightning general manager Steve Yzerman and Dallas GM Joe Nieuwendyk and will work with the competition committee to suggest new rules to protect players.
"We welcome these steps and look forward to discussing these and other issues with the NHL to provide a safer working environment for the players," National Hockey League Players' AssociationExecutive Director Don Fehr said in a statement.
The general managers were shown a video breakdown of almost every concussion over the last two seasons along with statistical data, which revealed accidental concussions have nearly doubled from a season ago.
Bettman said 70 percent of concussions this season had accidental causes, like legal hits, teammates running into one another or players taking a puck off the head. Illegal hits accounted for 17 percent -- down nine percent from 2009-10 -- and fighting resulted in eight percent of concussions. The cause of the reaming concussions could not be determined.
"This notion that the players have no respect for each other and they're going around hitting each other on the head on a regular basis and that's what's causing all the concussions just isn't accurate," Bettman said.
-- A.J. Perez
Photo: Getty Images