Manny Malhotra
may not have had to travel across the continent to see a surgeon in New York had the Vancouver
Canucks
center used one piece of equipment.
A visor.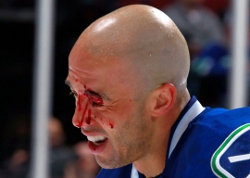 The thin piece of shatterproof plastic likely would have absorbed the errant puck that struck his left eye in a game two weeks ago. The injury ended his season and could very well endanger his career --- not to mention his enjoyment of life after hockey.
Unlike helmets that became mandatory more than 30 years ago, visors are an option in the NHL. It doesn't help when wearing a visor is seen as a less macho in a sport that's all about toughness. That stigma has waned in recent years, but there may be a good portion who still thinks like CBC commentator Don Cherry. He infamously said during a broadcast seven years ago that "most of the guys that wear them are Europeans or French guys."
Fortunately, a survey conducted last season by
The Hockey News
shows the younger players get it. The review found 65% of players 30 and younger wear a visor. It also showed that only 45% of players 30 and older do.
"It's tough to see the injuries like the one to Manny Malhotra,"
Sharks
GM Doug Wilson, one of the last players to play minus a helmet, told
CBSSports.com in a Q&A
. "We recommend and encourage our players to wear shields. I wish they all would. All parties involved should be looking out for the players' best interests."
Visors are already mandatory in the American Hockey League and in international play.
Is it time the NHL follows suit?
Or will this be another missed opportunity -- like when Bryan Berard had his career altered by a stick to the eye in 2000 -- to keep another player from suffering the same scary operation similar to the one Mahlotra underwent today?
-- A.J. Perez
Photo: Getty Images