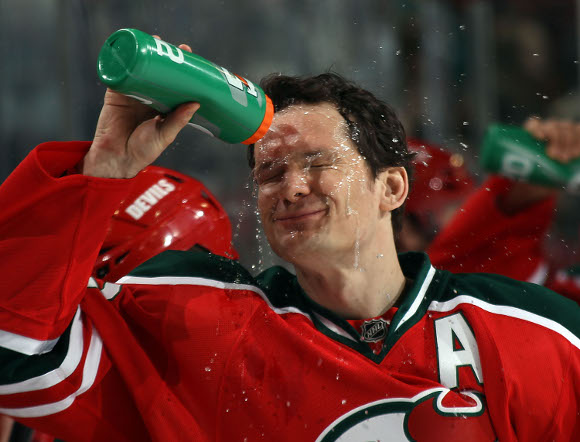 WHO CAN CLINCH:
No new teams can clinch tonight.
ALREADY IN:
Vancouver, Pittsburgh, Boston, Philadelphia, San Jose, Tampa Bay and Washington.
GAME OF THE NIGHT: Philadelphia Flyers (46-21-10) at New Jersey Devils (35-36-5), 7 p.m. ET
The Devils' thoughts of a miracle comeback can officially end tonight. If New Jersey doesn't win, it will be mathematically eliminated from playoff contention. It was a heck of run. The Devils are 25-7-3 in their prior 35 contests, a streak that has led them out of the East basement and to at least striking distance of the eighth and final playoff spot.
But, in the end, New Jersey was unable to shake off a 9-25-10 start, compounded by the Nov. 2 knee injury to Zach Parise. He'll be back Saturday against the Montreal
Canadiens
, but will miss tonight's game,
The Star-Ledger reports
.
The Flyers, who needed a shootout on the final day of season to clinch a playoff spot a year ago, have a magic number of four to win the Atlantic Division and eight to win the East. Philly enters a point ahead of Washington.
GOLF WATCH:
The Devils, as mentioned above, need a win to remain viable. The St. Louis
Blues
will be eliminated if they lose (in any manner) to the Calgary
Flames
OR
the Chicago
Blackhawks
earn at least one point against the Columbus Blue Jackets. Ottawa, Florida, New York
Islanders
, Columbus, Colorado and Edmonton have already mathematically out of it.
-- A.J. Perez
Photo: Getty Images