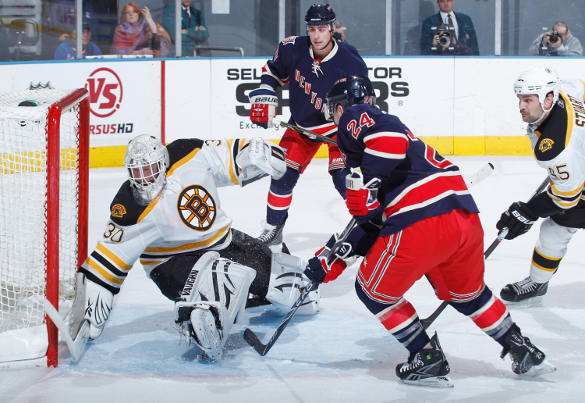 WHO CAN CLINCH:
The San Jose
Sharks
can win the Pacific Division with a victory over the Los Angeles
Kings
tonight. The Kings can secure a playoff spot with a victory.
ALREADY IN:
Vancouver, Pittsburgh, Boston, Philadelphia, San Jose, Tampa Bay, Detroit and Washington.
GAME OF THE NIGHT: Boston Bruins (44-23-11) at New York Rangers (42-32-5), 7:30 p.m. ET (Versus)
The Rangers were kept out of the playoff via a shootout loss to the Philadelphia
Flyers
on the final day of the season a year ago. The Rangers still have a few games left, but their victory in the same manner in Philly on Sunday was nearly as crucial. Eighth-place New York enters tonight's action with a two-point edge on the Carolina
Hurricanes
. Each team has three games remaining on the schedule.
New York is 9-3-1 in their last 13 contests, although it lost back to back games before Sunday's 3-2 victory at Wells Fargo Center. The Rangers improved to 28-0 when leading after two periods. The Rangers have won two of the first three meetings between these two clubs.
The Bruins enter with a 5-1-1 mark over their last seven games and they're fairly healthy, although they will likely be out
Shawn Thornton
. The Masterton Trophy (NHL's version of the comeback player of the year) nominee has been out two games since he suffered a cut above his right eye from a skate.
The Boston Globe
reports he skated with a shield on in practice on Monday.
ALTERNATIVE VIEWING: Los Angeles (45-27-6) at San Jose Sharks (46-23-9), 10 p.m. ET
A victory by the Kings will not only clinch a playoff spot for the back to back seasons for the first time in a decade, but they could also inch closer to their first division crown since 1990-91, when the Smythe Division still existed. The Kings would be three points back of the Sharks with a regulation victory tonight. Los Angeles has won three of the first five meetings.
GOLF WATCH:
The Toronto
Maple Leafs
will be eliminated with a Rangers victory. Atlanta, New Jersey, Minnesota Columbus, Ottawa, Florida, New York
Islanders
, Columbus, Colorado and Edmonton are already mathematically eliminated.
-- A.J. Perez
Photo: Getty Images