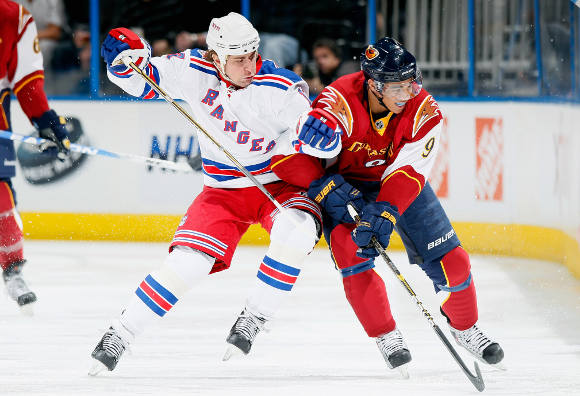 WHO CAN CLINCH:
Three teams can clinch tonight without even being on the ice. The Nashville
Predators
can secure a playoff berth if the Dallas
Stars
lose to the Colorado
Avalanche
(regulation, overtime or a shootout). The Phoenix Coyoteswill clinch a playoff berth if Stars lose or if the Stars win in a shootout. The Anaheim
Ducks
are in if the Stars lose in regulation.
ALREADY IN:
Vancouver, Montreal, Los Angeles, Pittsburgh, Boston, Philadelphia, San Jose, Tampa Bay, Detroit and Washington.
GAME OF THE NIGHT: Atlanta Thrasher (33-34-12) at New York Rangers (43-32-5), 7 p.m. ET
The Thrasher may have been eliminated a few days back, but they still have a major say who gets the final couple playoff spots in the East. Atlanta, which is on a two-game skid, faces the Rangers tonight and the Carolina
Hurricanes
on Friday. The
Thrashers
have won two of the first three meetings.
This will be the first game for the Rangers since
Ryan Callahan
went down with a broken ankle suffered in Monday's 5-3 victory over Boston. Defenseman
Matt Gilroy
will be moved to the wing to fill in for Callahan, the Rangers' second-leading scorer. The Rangers enter with wins in back-to-back games
ALTERNATIVE VIEWING: Colorado Avalanche (29-42-8) at Dallas Stars (40-28-11), 8:30 p.m. ET
The Stars, who have won two in a row after a six-game slide, can pull to within three points of the idle Chicago
Blackhawks
with a victory. While the Avs have been at or near the basement much of the season, they have won the two previous meetings between these two clubs. The Stars also face the Avs on Friday.
GOLF WATCH:
No new teams can clinch tonight. Calgary, Toronto, Atlanta, St. Louis, New Jersey, Minnesota Columbus, Ottawa, Florida, New York
Islanders
, Columbus, Colorado and Edmonton are already mathematically eliminated.
-- A.J. Perez
Photo: Getty Images