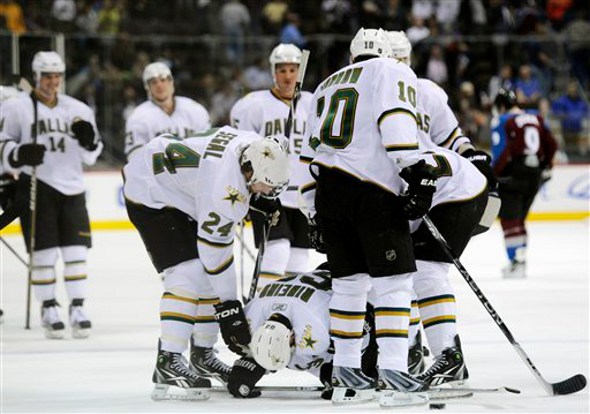 Dallas
Stars
forward
Mike Ribeiro
's attempts to make it back to the bench as regulation ticked down spoke enough about the importance of Friday night's game.
Ribeiro dropped to both knees with 19 seconds left to block a slap shot from the Colorado
Avalanche
forward
Mark Olver
. The shot caught him above the knee and after a couple attempts to make it to the bench, he lay face down on the ice as time expired in the Stars' 3-2 victory.
It was a win the Stars needed to stay alive in their hunt for the playoffs -- and they had to do it in regulation or overtime since the Chicago
Blackhawks
beat the Detroit
Red Wings
, 4-2, earlier in the evening. That means the eighth and final playoff spot in the Western Conference won't be settled until Sunday, the last day of the regular season.
"We have one game left," Ribeiro told reporters after the game. "We have to take care of what can control. We can't control what happens to the other games. . . . It's a good thing that we won. We keep the dream alive and keep believing we can still get in there."
The Nashville
Predators
, Phoenix
Coyotes
and Anaheim
Ducks
also won Friday to clinch playoff spots, leaving the path through the 'Hawks as the only one that will lead to the playoffs for the Stars.
The Blackhawks still can lock down eighth seed and avoid becoming the second reigning Stanley Cup champ over the last 72 years to miss the playoffs by getting at least a point against the Detroit Red Wings. (The game will be on NBC at 12:30 p.m. ET) If the Blackhawks lose in regulation, the Stars then could get that last seed with a victory in regulation or overtime. Both would finish with the same amount of points (97) and they would also be equal in the first tiebreaker, regulation and overtime wins (38). The Stars, however, hold the second tiebreaker, a better head-to-head record.
Ribeiro gave some flack to
Steve Ott
, who lost that last faceoff, but it doesn't sound like he could be kept out of Sunday's game.
"For sure it's not a muscle because I don't have much of those," smirked Ribeiro, who had a goal and an assist in the game. "I'm sure it going to be a bruise. For the last game, I'll play that one. If I can walk, I can skate."
-- A.J. Perez
Photo: Associated Press