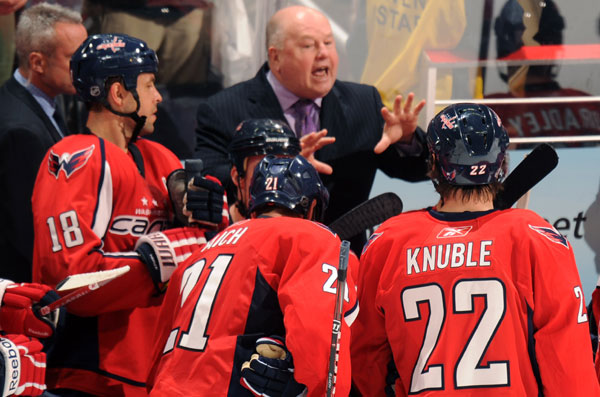 If Bruce Boudreau isn't familiar with a Bronx cheer, he soon will be.
Apparently the Capitals coach doesn't get the aura of Madison Square Garden. In an interview with a Washington radio station, Boudreau shared a few thoughts on the "World's Most Famous Arena." Here's betting he didn't make any friends in New York.
"Its reputation is far better than the actual building," Boudreau said in an interview on the station. "It's nothing. The locker rooms are horrible. The benches are horrible. There's no room for anything. But the reputation of being in Madison Square Garden is what makes it famous. Our building is a lot louder, too. They can say what they want, but it's not that loud in there."
Did you leave anything out, coach?
Apparently. Here's what he had to say about the Rangers' approach to Caps defenseman Mike Green, who just returned from an absence from concussion.
"It was to the side of the head, and it was a dirty shot. I hope the league looks at it," Boudreau said of a hit in Game 3 from Marc Staal. "That's exactly what we're trying to get out of the league and out of the game. Staal comes in, there's no puck, he takes his arm, he swings it at his head, but it's all forgotten because we score a goal to tie the game up.
"It shouldn't be forgotten and it wasn't the only time they targeted Mike's head."
As if the New Yorkers needed a reason to get more riled up. Just ask Pedro Martinez how it can be after saying anything bad about either New York or its teams.
MSG will surely be as loud as Boudreau has ever heard it before from here on out, especially if the Rangers are able to stay toe-to-toe with the Caps in the series. As for the other charges, well, they might be on target, but that won't matter much to the patrons. If he wants loud, he'll get it.
-- Brian Stubits