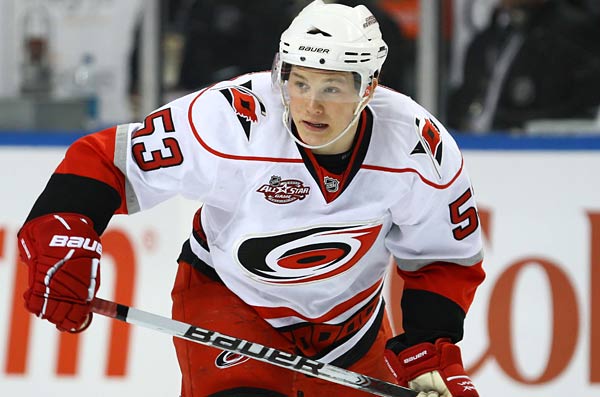 San Jose Sharks center Logan Couture, New York Islanders winger Michael Grabner and Carolina Hurricanes center Jeff Skinner were unveiled as the three finalists for the Calder Trophy -- the NHL's version of the rookie of the year award -- on Tuesday. This a solid rookie class where an argument could be made for any of these three to be handed the trophy in June. As a proud, voting member of the Professional Hockey Writers Association, here's my top 3:
1. Jeff Skinner, Carolina Hurricanes: This was one of the votes that I went back and forth on several times before I submitted my ballot. In the end, I gave Skinner the nod since the 18-year-old performed at a consistent level for nearly the entire season on a team that was in the playoff hunt until Game No. 82. Skinner led all rookies in points (63), was second in assists (32) and third in goals (31). He was a fixture on Carolina's shootout from the beginning of the season and contributed key goals down the stretch, minus which Carolina wouldn't have even been a contender. Also, I put a slight priority on centers over wingers if all else is equal.
2. Michael Grabner, New York Islanders : While Skinner was the seventh overall pick in last summer's NHL Entry Draft, Grabner wasn't even the Isles' property at the end of training camp. They claimed Grabner off waivers on Oct. 5 and he went on to lead the Islanders in goals (34), which was also tops among rookies. Probably even more impressive was his plus-minus (plus-13), a stat that doesn't alway treat first-year players too well. At 23, he's five years older than Skinner. I didn't use that as a factor in my voting. I also didn't take into account he's one of the best follows on Twitter .
3. Logan Couture, San Jose Sharks: On a team with Joe Thornton, Dany Heatley and Patrick Marleau, Couture was still one of the team's most consistent forwards. Along with his speed, Couture is a tenacious back-checker and one of the best young finishers in the game. He was second on the Sharks (and among rookies) in goals (32). The line he typically centered with Ryane Clowe along with Heatley or others on the wings was often the Sharks line that got them revved up en route to another Pacific Division title.
-- A.J. Perez