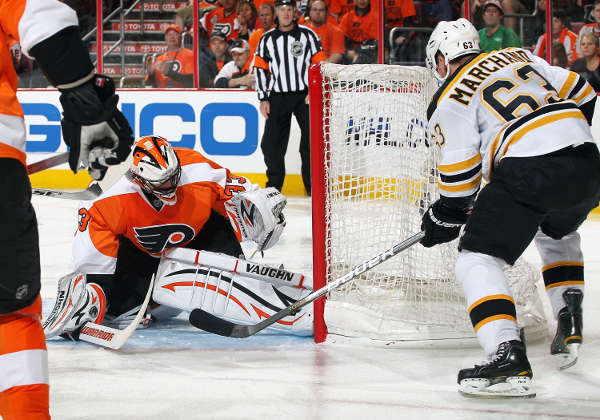 It took all of one game -- actually, not even two periods -- to restart the Philadelphia
Flyers
' goalie carousel.
Flyers goalie
Brian Boucher
was yanked with less than four minutes left the second period after he allowed his fifth goal (on 23 shots) in the Boston
Bruins
' 7-3 victory in Game 1 of the second-round series at Wells Fargo Center on Saturday. In came rookie
Sergei Bobrovsky
, who allowed the final two goals over the final 10 shots.
They combined ot allow the most goals in a postseason game against the Bruins since May 4, 1978.
"It wasn't a good afternoon all around for all of us," Boucher
told CSN Philadelphia
. "We didn't get any breaks and we certainly didn't play all that well. At the same time, I don't see the need for a change (in goal), but we'll see what happens."
The Flyers began the first round with Bobrovsky in net, but his tenure ended after he allowed three goals on seven shots. Boucher came into the game in relief as the Flyers battled back to win Game 2 against the Buffalo
Sabres
. Boucher eventually had his owns struggles and
Michael Leighton
--- who was limited to one regular-season game ---- played part of Game 5 and got the start in Game 6. Boucher finished off the series and entered as the No. 1 goalie for this round.
One bright spot for the Flyers defense and special teams is that they killed all five of the Bruins' 5-on-4 opportunities. The Bruins still haven't scored on the power play and they sunk to 0-for-26 with the extra man.
-- A.J. Perez