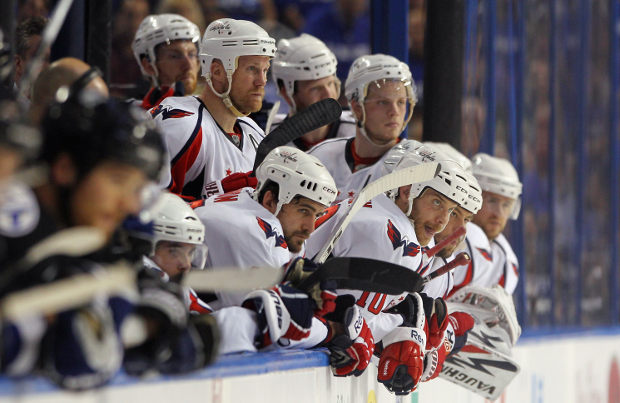 It's hard to fathom how a Washington
Capitals
team that can't hold a third-period lead would become the fourth team in NHL history to advance after it dropped the first three games in a playoff series.
That'd take veteran leadership, grit and smarts --- all of which were lacking as the Tampa Bay
Lightning
eked out a 4-3 victory in Game 3 of the second-round series at the St. Pete Times Forum on Tuesday.
The Caps all but certainly lost the series in a span of 24 seconds early in the third period as Tampa Bay forwards
Steven Stamkos
and
Ryan Malone
scored for the game's final margin. A turnover by
Eric Fehr
led to the Stamkos marker and seconds later Malone drove hard to the net --- something the Caps still refuse to do with regularity --- and a pass from teammate
Nate Thompson
deflected (legally) off his skate and in.
"I'm not surprised from what I saw from Tampa," Capitals coach Bruce Boudreau said. "I'm surprised some of our guys panicked a little bit. That comes when you're down 2-0 in the series. You're pushing and they're coming on pretty hard."
Boudreau should be used this from his Capitals. He's taken these rulers of the regular season to the playoffs each of his four seasons at the helm, although the team has only managed series victories over one team: the New York
Rangers
(twice). A year after they won the Presidents' Trophy and were bounced in the first round by the Montreal
Canadiens
, the best team record-wise in the Eastern Conference now stands one game away from elimination.
This loss certainly can't be pinned on Washington captain
Alex Ovechkin
, who scored a goal, had an assist and was all over the ice in an attempt to provide a spark even if he tried to do too much at times. And you can't fault his optimism after the game, even if it's misplaced.
"Again, I think we dominated them all game," Ovechkin said. "They just scored on their chances. They played a solid game on defense and (Lightning goalie Dwayne) Roloson played great. It's not over."
The only period the Caps could make an argument they "dominated" was the second as they scored three goals and finished with a 3-2 lead. It was a wash in the first period and the Caps went nearly 13 minutes between shots in the third.
"We get up for a certain amount of time and I think that our guys think the game is over," Caps forward
Jason Arnott
said. "The guys just relax a little bit and then they (the Lightning) just come. In the playoffs you need to be focused and ready on every shift. If you aren't, bad things happen."
Minus Ovechkin and hard-nosed veteran
Mike Knuble
who scored the Caps' first goal, Washington's top forwards again turned in lackluster performances.
Alexander Semin
, again too choosy on his shots, didn't record his first shot until the closing minutes of regulation.
Nicklas Backstrom
, who at this point better have some sort of injury to explain his ineffectiveness, has two points in the playoffs – none in Game 3 --- and hasn't had a goal in 16 games overall.
While the Caps' play hasn't been consistent, at least Boudreau is. When the going gets tough, Bruce gets tough on the refs.
"It sounds like I'm whining," Boudreau prefaced one comment before he complained about a first-period goal that was disallowed after Semin jumped on the ice early. Replays clearly showed that the Caps had six skaters on the ice, but Boudreau called the too many men on the ice rule "ambiguous."
He also didn't like Malone's goal where he battled with Caps defenseman
John Carlson
for position in front of goalie
Michal Neuvirth
.
"If you look at it, Malone is driving the net and he's pushing our player into our goaltender and he can't kick out his right leg to make the save," Boudreau said. "It's a no-goal, no-penalty call."
Actually, it looked like a typical, hard-driving goal you see this time of year. You can forgive Boudreau, since he doesn't see that a whole lot from his skaters.
But no worries. A loss in Game 4 on Wednesday and Boudreau may no longer have to worry about the Caps or their middling postseasons ever again.
-- A.J. Perez
Photo: Getty Images