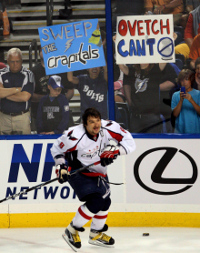 The Washington Capitals latest postseason failure can be traced back to December.
Caps GM George McPhee had the perfect opportunity to bounce coach Bruce Boudreau during the team's eight-game skid -- not because he's a horrible coach, not a nice guy or a bad spokesman for a rug cleaning company. McPhee needed to show there were consequences, the NHL equivalent of sitting your kid in the corner for a timeout.
The end result of McPhee's inaction came to pass on Wednesday: Washington was swept by the Tampa Bay Lightning with a 5-3 victory in Game 4 of the second-round series. The Caps became the first No. 1 seed in the 17-year history of the current playoff format to fall victim to a sweep in the first two rounds.
Well, I guess the Caps did accomplish something this season.
"I knew it was a tough year," Boudreau said after his team's implosion was complete. "I just thought if we persevered, that something good would happen."
Boudreau fell to 17-20 in the postseason, a record that is in contrast to his 189-79-39 record in the regular season. He's lost four of the six series he's coached in with the Caps, the only wins coming off the New York Rangers.
McPhee does need to share in the blame for not making the tough decision to let Boudreau go, but he deserves credit for the depth he added during the season. The Caps brought in Jason Arnott in a trade deadline deal with the New Jersey Devils. He also dealt for defenseman Scott Hannan --- even if he had a horrible second round, and finished a minus-2--- and his move not to add a veteran goalie didn't backfire. Michal Neuvirth wasn't spectacular, but he also wasn't the reason the Caps got bounced early again.
"They have everything it takes to win," said Arnott, who becomes an unrestricted free agent this offseason. "No question. It's a tough thing to do. Playoffs can go one way or another. You have to have luck. You have to have bounces go your way. For me, I think this team has a great mix of guys who can win."
Much of the blame has to go to the Caps for not sticking to their more defensively responsible system that was supposed to pay dividends in the postseason. It was a great idea, but it could be an indication that the players may have stopped listening to Bruce sometime earlier this series because his skaters reverted back to their free-form ways.
Of course, no matter how many of us in the media or fans talk about, this is a decision that sits with McPhee and owner Ted Leonsis, who is more tolerant of the status quo then most. And if Brooks Laich, also a soon-to-be unrestricted free agent, had his way, Boudreau and his assistants, Dean Evason and Bob Woods, would be back.
"That doesn't fall on Bruce," Laich told The Washington Post. "We're the guys that play the game. Bruce, Dean and Bob, I think we have a dream team of coaches. We're privileged to play for these guys. Any criticism directed toward them is completely unjust. They put the game plan together and it's up to the players to execute."
In pro sports, however, you can't get rid of an entire underperforming playoff team. Replacing the coaching staff is the easier route.
-- A.J. Perez
Photo: US PRESSWIRE