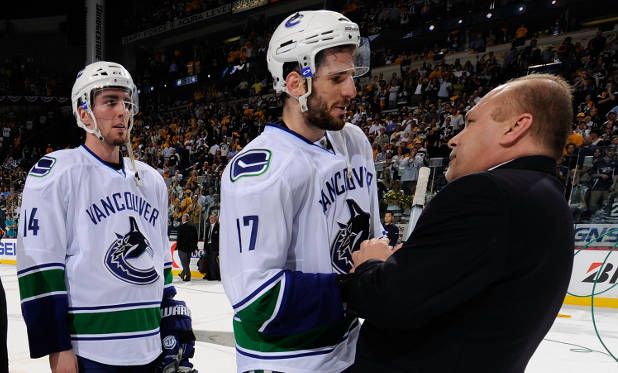 The Vancouver
Canucks
' playoff push would have stalled (again) in the second round minus the efforts of
Ryan Kesler
.
The gritty forward had assists on both Canucks' goals in Monday's series-clinching 2-1 victory over the Nashville
Predators
on Monday night. He finished the series with 11 points (five goals, six assists), making him a factor in all but five goals scored by the Canucks in the series.
"He obviously decided to drive the bus," Canucks coach Alain Vigneault said. "He obviously was our dominant force on the ice. He played real strong on both sides of the rink. We needed that performance. We needed some other guys to come on board here. It's not going to get easier."
Kesler (pictured above, center) instigated the first goal Monday after he stripped Preds defenseman
Ryan Suter
and fed the puck to
Mason Raymond
. His second assist came after banging the puck off Nashville goalie
Pekka Rinne
on a power play later in the opening period, allowing Daniel Sedin score to score first goal of the series.
Twin brother Henrik also had only one goal during the series and the combined the Sedins were a minus-9.
"They didn't get a lot of production out of the Seinds," Trotz said. "They concentrated on shutting down our guys. We concentrated on shutting down their guys. We just had (trouble) shutting down one extra guy. . . . (Kesler) had one of the most in incredible six games you are ever going to see."
Even after running his goalie, Pekka Rinne, in the opening period, Kesler drew the respect of Nashville coach Barry Tortz (above right) and he conveyed the sentiment during the traditional handshake.
"He had one of those series that is absolutely remarkable for one player," Trotz said. "I said when I was going past him (in the handshake line) that if he doesn't play that way, we are probably going to a Game 7 and we might win the series. He played to a level that few people can reach."
Kesler made a name for himself at the 2010 Winter Olympics for Team USA's drive to the gold medal game, and the fact he basically carried the Canucks to the conference finals for the first time in 17 years certainly raised the hardnosed forward's stock some.
-- A.J. Perez
Photo: Getty Images