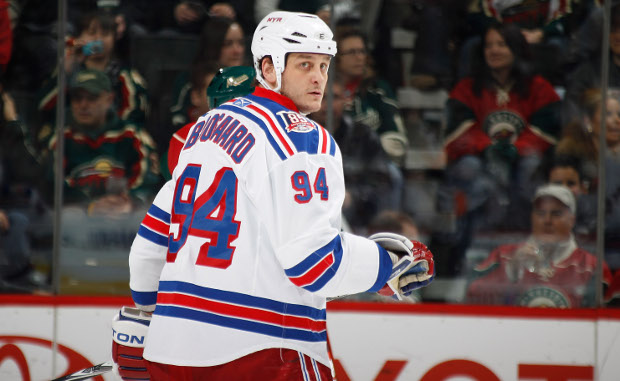 The New York
Rangers
confirmed the death of enforcer
Derek Boogaard
late Friday night, hours after his body was reportedly found in his Minneapolis apartment by family members. He was 28.
"Derek was an extremely kind and caring individual," said New York Rangers president and general manager Glen Sather said in a statement. "He was a very thoughtful person, who will be dearly missed by all those who knew him. We extend our deepest sympathies to his family, friends and teammates during this difficult time."
Details of what caused his death were not immediately known. An official at the Hennepin County Medical Examiner's Office told CBSSports.com that the results of the autopsy, scheduled to be conducted on Saturday, will not be ready for a couple weeks pending toxicology results.
"Derek was a well-liked and respected member of the NHLPA, and his passing is a great loss to the entire hockey community," National Hockey League Players Association Executive Director Don Fehr said in a statement. "Our sincere condolences to Derek's many friends and family during this difficult time."
News of Boogaard's passing was first reported by Michael Russo of the
Minneapolis Star Tribune
. Russo reported Boogaard is survived by his mother, Joanne, and father, Len, his younger brothers Aaron and Ryan and younger sister, Krysten.
A native of Saskatoon, Saskatchewan, Boogaard was originally drafted by the Minnesota
Wild
and played 225 games for the club from 2005-06 through 2009-10. The Rangers signed him as a free agent last offseason for a four-year, $6.5 million deal to help toughen up the Rangers and protect his former teammate in Minnesota,
Marian Gaborik
. His season was cut short due to a concussion suffered in December.
The 6-foot-7 Boogaard was seen as one of the fiercest fighters in the NHL, garnering a fearsome reputation largely from his knockout punch of Todd Fedoruk in 2006, a fight that left Fedoruk with a broken cheek bone.
"The Minnesota Wild organization sends our deepest sympathies to the family of Derek Boogaard," the Wild said in a statement. "Derek was a fan favorite during his five seasons with the Wild and will be greatly missed here in Minnesota and throughout the NHL. Our thoughts and prayers go out to the Boogaard family during this tragic time of loss."
"At a loss for words. I'll miss my roomy Derek Boogaard. You will be missed by everyone. Great friend and teammate," Rangers forward
Brandon Prust
tweeted early Saturday morning.
-- A.J. Perez
Photo: Getty Images