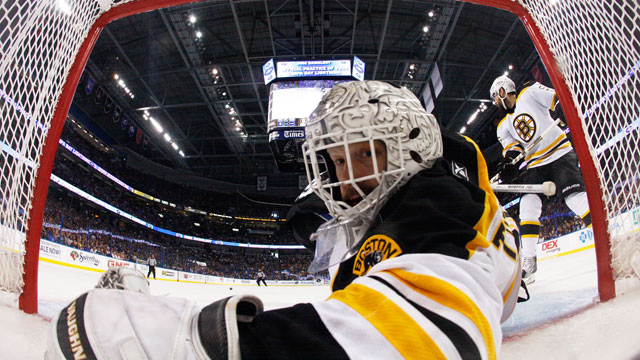 Tim Thomas only spent a few days in Tampa for Games 3 and 4, but he did enough things to make it seem like the work of weeks on site.
The latest revelation is the Bruins goalie making a proclamation Saturday evening: "we're going to win."
Short, sweet and to the point, but Joe Namath it isn't. Nobody would expect for Thomas to say anything different. If you're a Bruins fan, you better hope your goaltender is thinking that way. Honestly, it's hardly worth batting an eye over.
Mark Recchi agrees.
"That's great he believes in it," Recchi said. "You've got to believe in the dressing room, and you've got to believe you're going to win the series."
But everything that happened while in Tampa isn't staying in Tampa, instead adding up to an eventful few days.
First there was the second career shutout in Game 3's 2-0 win, stopping all 31 shots the Lightning threw against him. It was sort of all down hill from there.
After that shutout, Thomas got himself into a little hot water. Well, we should say others got Thomas into a little trouble and nobody ever really came out to simmer the situation.
Thomas said following Game 3 that "I was able to play more under control tonight, but a lot of that had to do with ... we played the way that I'm used to. I felt comfortable in a game like that."
That last line, the one about feeling comfortable, is the culprit here. It was twisted into Thomas saying the Lightning are easy to play against. At least, that's how Lightning players and coach Guy Boucher took it.
"Well, some of the players talked a lot about it," Boucher said after Game 4. "He did say that it was an easy game to play against us last game. And obviously a lot of the guys were very fired up for this game. Certainly, I did hear it in the locker room, for sure."
Then there was Ryan Malone.
"We're expecting seven games, and last game when their goalie says he has an easy game, that's our job to make sure we get in there, take his eyes away, and make it hard on him."
So whether or not that was the intent of Thomas comment -- sounded more like praise of his defensemen than anything to me -- it was taken by the Lightning as bulletin-board material.
And now he's given them some more. After listening to Malone and Teddy Purcell after the game, seeing the wry smiles on their faces and the same on Boucher's when talking about Thomas' remark, you know Tampa Bay will use this latest as motivation. And they should. Whatever tools you can use in the playoffs to pull out every ounce of energy, you take it. Boucher is already working on it.
"We might as well stay home," Boucher quipped. "It's going to cost us a lot less money. And we can go home and get some sleep and watch some movies."
Adding to the weekend was Thomas showing clear signs of frustration in Game 4. And that was before the Lightning came back to win with five unanswered goals. On multiple occasions in the first period, Thomas seemed angry, at one point throwing a punch with his blocker right at Adam Hall.
You can see the punch more clearly here.
Either way, the Bruins have to do a better job on defense, and it starts with Thomas. A goalie is many times only as good as his defensemen, but Thomas didn't do much to help his cause in Game 4. His mishandling of the puck behind his own net led to the first Tampa Bay goal of the game and got the Lightning rolling. But overall, the B's were pretty sloppy, ultimately surrendering the puck at their own blue line to set up Simon Gagne's game-winner.
But the Lightning will be charged up for Game 5, especially now with some extra motivation, and they have plenty of electric talent to begin with. Ultimately it's up to Thomas to shut them down to move Boston within one win of the Stanley Cup Finals.
-- Brian Stubits